Done right, open floating shelves add style, function, and personality to practically any room. But because they're exposed, you want your shelf decor to be top-notch. Start with these inspirational concepts from our designers, Sydney Monson and Kayleigh Queoff.
Floating Shelves Placement Ideas
Now that you know you want to incorporate floating shelves into your home design, where can you place them?
The Kitchen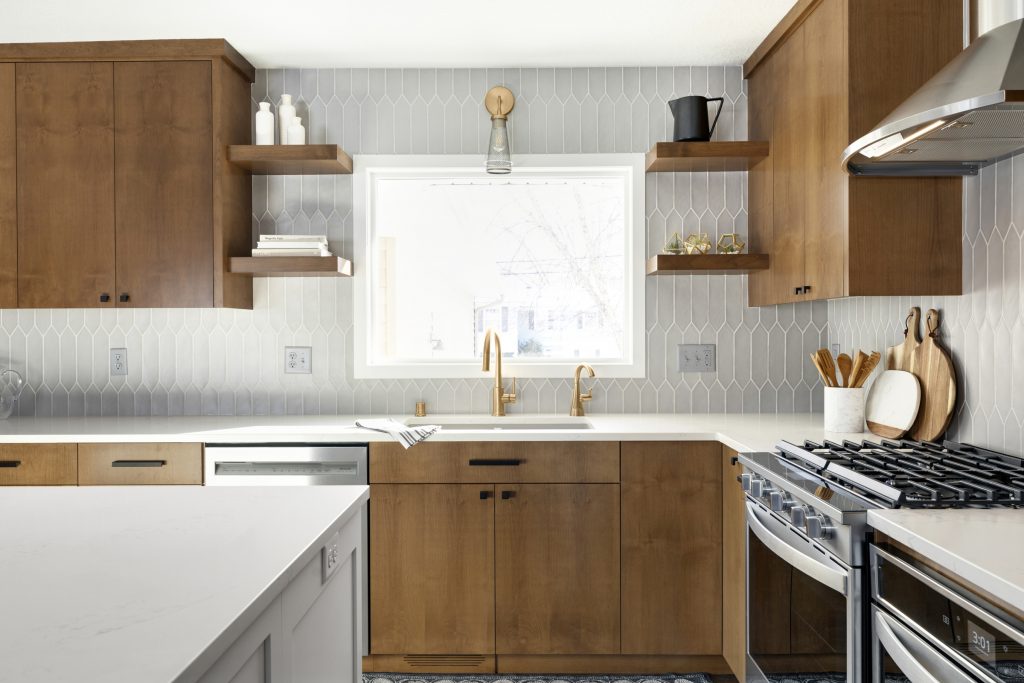 This room fills a lot of daily needs. Style these open floating shelves with a mix of two-thirds functional items and one-third decor.
Design Ideas:
Stacked matching dishes and bowls.
Glass or ceramic canisters with baking essentials — flour, sugar, etc.
Fresh herb plants in matching or complementary pots.
Pro tip: "Because kitchens tend to collect dust and grease particles, you'll want to consider minimal, intentional styling in this space," said Sydney.
The Living Room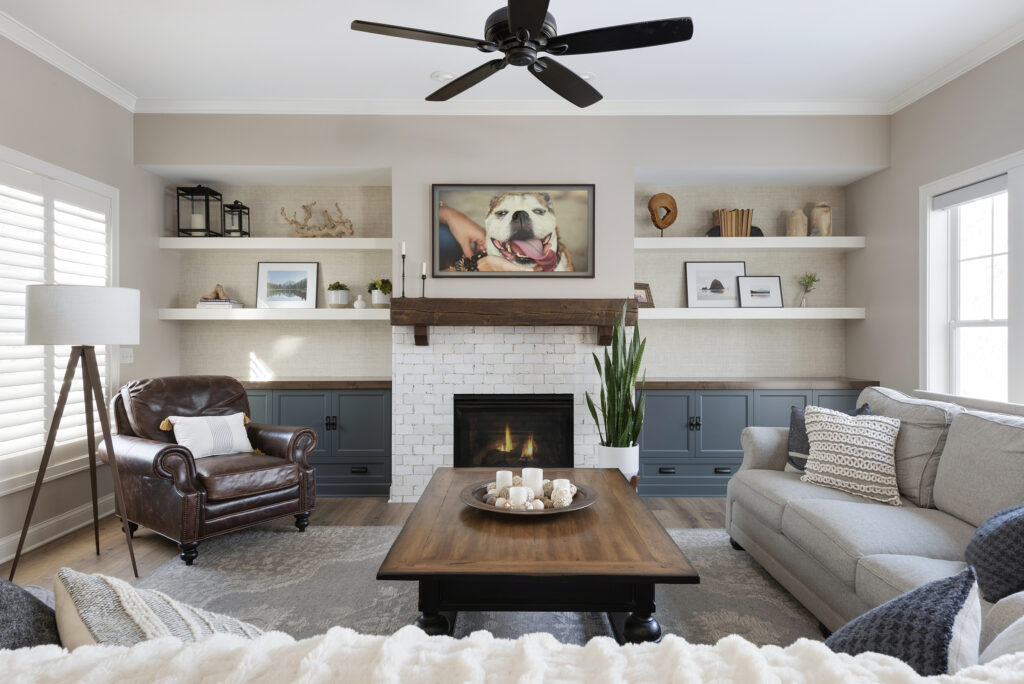 Open shelves in the living room allow you to showcase your personality, travel, or passions.
Design Ideas:
A monochromic book collection can be a stunning visual. Use bookends for added appeal.
For the artists out there, showcase your artwork or put out locally made pieces.
Pro Tip: "This is a perfect place to showcase your personality," Kayleigh says. "Whether you want to change things out seasonally or style it for longevity, find items that you'd love to put on display."
The Bathroom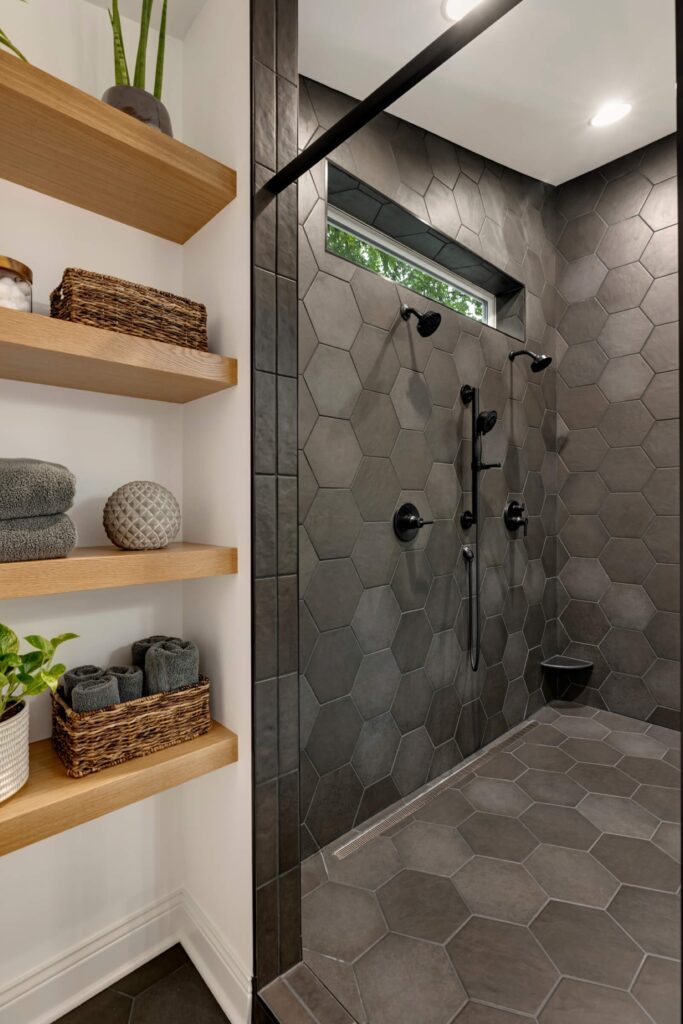 The bathroom is another area to really reconcile function and look. We love how this design combined towels with plants and sculptures.
Design Ideas:
Glass containers with bathroom essentials such as Q-tips, cotton balls, or even smaller soap bars.
Faux plants that don't need sunlight or watering.
Baskets for additional toilet paper or towels.
Pro Tip: "This is a fun way to combine function and aesthetics," said Sydney. "Wicker baskets can double as storage and decoration."
Wet-Bar Area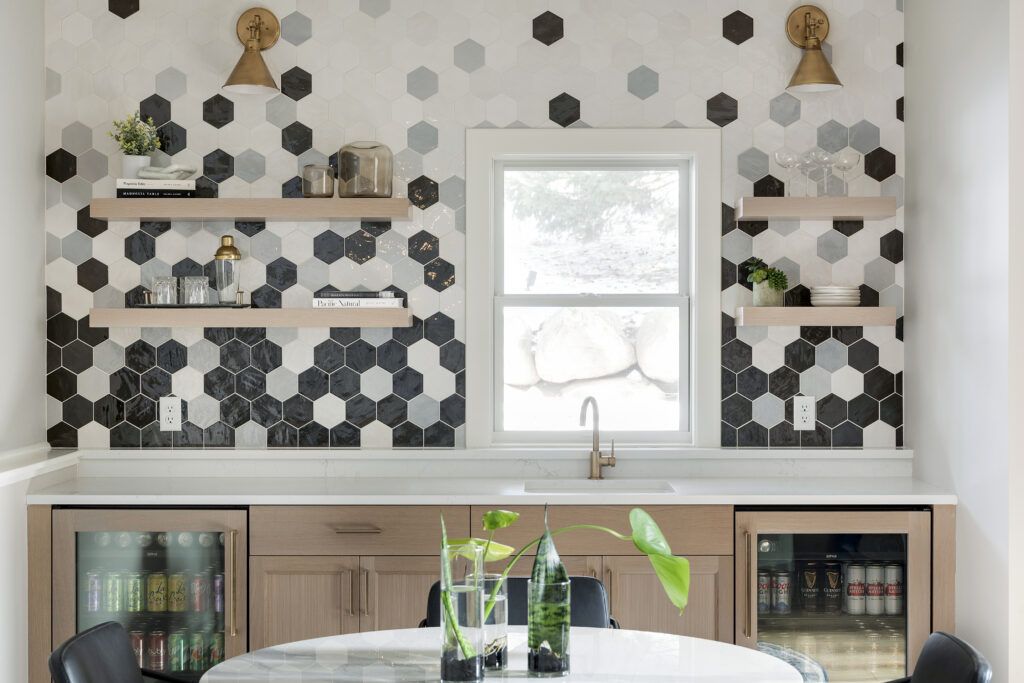 In your at-home bar, you can go bolder, whether it's playing with tile or showing off parts of your wine collection.
Design Ideas:
Special or sentimental bottles (make sure they don't need to be refrigerated!)
Curated barware.
Artwork that tells your story. If you travel somewhere specific, showcase a sculpture or painting that speaks to that place!
Pro Tip: "This is a great opportunity to have fun with styling!" said Kayleigh. "Show off your glassware in groupings; add in something unexpected for a fun conversation piece."
Styling Shelf Decor Tips from the Experts
Now that you have shelf decor ideas, how do you arrange them in a visually appealing way?
Less is more. 
If your open shelves get too busy, it can negatively affect the look of the room. Only specifically designated pieces earn their way to this coveted spot.
Leaving empty space on your shelf may feel counterintuitive, but it'll give everything more breathing room.
Not everything has to be perfectly symmetrical. 
When it comes to shelf decor, symmetry is a great place to start, but too much can become repetitive. Try mixing it up for more visual interest. If you have symmetrical candles in decorative holders in either end of the shelf, try adding different elements – plants, ceramics, small framed art – on either side.
Play with color.
While monochromatic looks can be striking, this is a chance to play with color. Mix up black and white with pops of color that complement the rest of your room design. If your room has accents of gold, add gold or other metal accents to your shelf.
Same goes with variety.
Don't feel like your shelf has to house only one type of object. In fact, it's better to mix it up. You can even change out your shelf decor seasonally to keep things fresh!
Collaborate with Design-Build Experts You Trust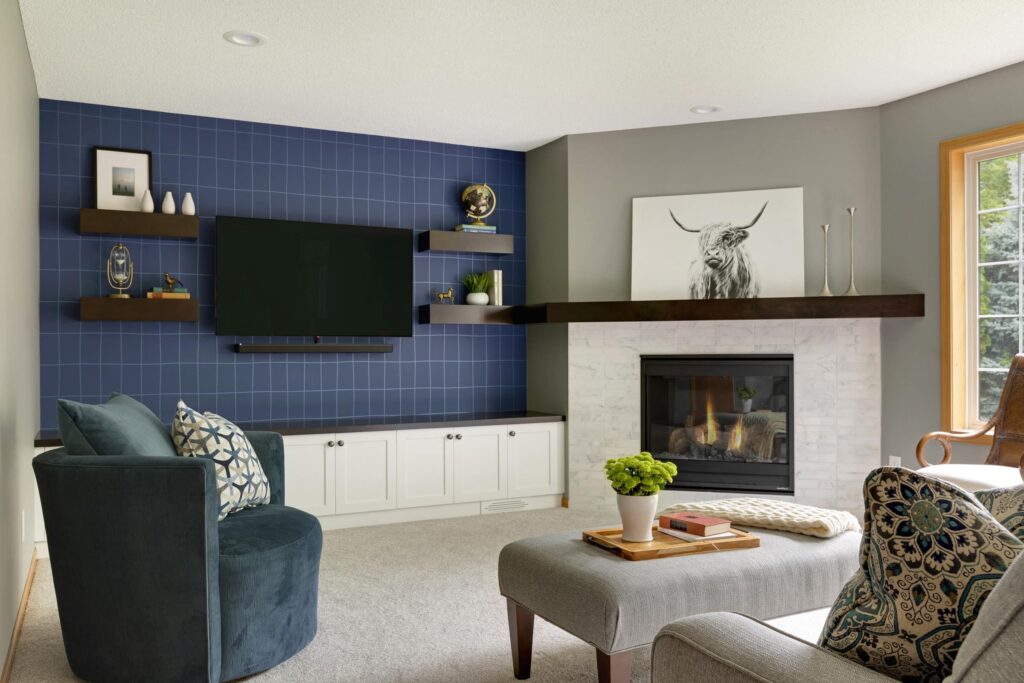 Hopefully, these shelf decor ideas inspire you to reimagine your current look. Remodeling your home gives you a fresh chance to decorate your space. Our team gets involved in the decision-making, providing innovative ideas based on your wants and needs.
Learn more about James Barton Design-Build, and why we've been a trusted Twin Cities remodeling company for over 25 years.