Tile is one of the most sought-after materials when it comes to kitchen and bathroom backsplashes, as well as flooring. Not only are there a wide range of colors, shapes, and patterns, but tile is durable, water resistant, and easy to wipe down.
But if you've ever looked on Pinterest or at a tile shop, you know that the options are endless for what type of tile to choose! Our JBDB designers provided this ultimate guide to choosing tiles to help you narrow down what options might be best:
Kitchen Tile Backsplash

When planning a kitchen remodel, there are a lot of different components to consider. Cabinetry and countertops are both big design elements, but the kitchen backsplash is a key piece that can help tie your kitchen design together.
 "Your backsplash is a great place to add some personality to your kitchen," said Sydney Monson, one of JBDB's designers.
Classic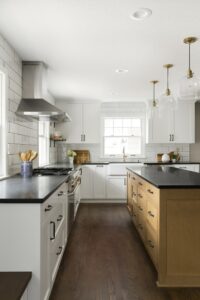 If your dream kitchen design is clean and classic, opt for a marble look or white subway tile backsplash. These classic, subdued options will add style but won't steal the spotlight from the rest of your kitchen. "Classic doesn't mean boring! A simple white subway tile can be a clean and polished look," said Kayleigh Queoff, one of JBDB's designers.
Textured
Not all tile is perfectly smooth – some have raised patterns or texture. These types of tile add subtle visual interest and depth to your kitchen, without necessarily adding a lot of color. Textured tile can also give a more hand-crafted, rustic look to your backsplash. Zellige is one textured option to keep an eye out for—this Moroccan tile adds a subtle, handmade texture to your design.
Patterned
If you want your backsplash tile to make a statement, try a patterned tile! Choose from geometric patterns, floral patterns, bright colors or vintage-looking tile. Patterned backsplashes are on-trend and a great way to incorporate stunning visual interest into your kitchen. 
Bold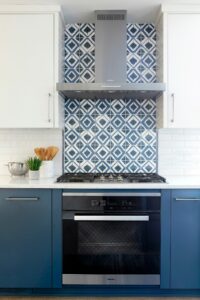 If you want to showcase your creative side in your kitchen – go bold! Whether it's picking a bold patterned tile, combining different types of tile in your backsplash, or choosing an eye-catching color, you don't have to be limited to a simple white if that isn't your style.
Bathroom Tile Backsplashes
When it comes to your bathroom remodel, there are plenty of decisions to make, from fixtures to paint color. But investing in your bathroom tile backsplash not only helps protect the wall behind the sink, it incorporates your individual style into the space.

"The bathroom is a place to escape and unwind at the end of a long day," said Monson. "Selecting the right tiles can create a beautiful, relaxing atmosphere."
Our designers are here to help you build your dream bathroom. To get you started, here are a few bathroom backsplash ideas:
Biophilic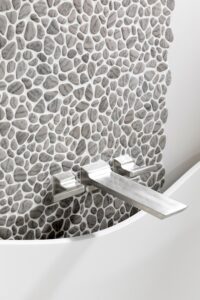 The term biophilia refers to the desire to connect with the outside world and this backsplash trend is certainly having its moment in the sun. Ceramic tile is designed with the beautiful textures and colors found in wood and natural stone. The effect connects your space to nature, creating a calming environment. 
Mosaic

When you want your bathroom to really make a statement, try a mosaic. This versatile technique can be as simple or as intricate as you'd like it to be. Our design team can help find the perfect look for you to fit the space and feel you are going for. 
Tile Flooring

Because of its resilience and sustainability, tile flooring is a worthwhile investment as you plan out your next remodel. No matter what type of foot traffic your home sees, tile floors can handle it! From start to finish, our designers can help you select a tile that works for your family's needs. 
Terrazzo
If you want a floor that doubles as a work of art, consider a terrazzo tile. Terrazzo combines an assortment of tile shapes, sizes, and aggregate colors and lays them out smoothly to create an eye-catching, classic floor design. 
Warm Neutrals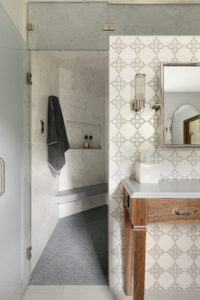 When you want to bring comfort into your home, try a warm, neutral tile. From softer grays to tans, even the right gold, earthy shades are a great way to add coziness to any room. Add pops of color against this neutral background for an exciting look. 
Green

If you're looking to pull inspiration from the outdoors, muted greens are an increasingly popular choice for tile flooring. Choose between warmer shades or cooler tones, depending on the feeling you want the room to have. With lots of flexibility, green tiles fit in with a modern, classic, and even rustic look. 
Other Details to Consider
Beyond the tile itself, there are a few other things to keep in mind with your tile backsplash to make it feel truly customized to your space:
Size. Tiles come in all sizes – from 12×24 down to penny tiles. Think about what size works best for your vision. 
Grout. Grout comes in a variety of shades, so think about whether you want your grout to provide contrast or to blend in with your tile.
Gloss. Some tiles come with a high-gloss finish, and others are more matte. Keep in mind what type of finish works best with your other selections.
Pattern. Are you doing your tiles vertically or horizontally? Stacked, staggered, or in a herringbone pattern? Our designers can walk you through the options to help you determine what will work best.
Get Started on the Remodel of Your Dreams!
At James Barton Design-Build, we work with our homeowners to help them not feel overwhelmed with design decisions. Our experienced team helps homeowners focus on what they really want, and works with them every step of the way to create spaces that are functional, beautiful, and reflect their family.