Chilly winter weather may make you want to cozy up and stay inside, but what if your home's floors are frosty, too? If you walk into your bathroom, basement, or entryway and have to brace yourself for the cold floor underneath your feet, know that you're not alone: "We definitely get requests for adding in-floor heating from homeowners," says John Miller, VP of sales and production at JBDB.
If you're considering in-floor radiant heat, here are some of the basics you'll want to know.
It's not just for tile floors
It's true that tile can make a floor pretty chilly, and in-floor heating is a great option to warm it up. But in-floor heating also works under most types of flooring material! "There are different types of in-floor heating that are specific to each application," says Emily Thull, one of JBDB's designers. From carpet to hardwoods to luxury vinyl planking, there are in-floor heating options for many flooring types. 
It's not just for bathrooms
Adding in-floor heating to a master suite is certainly one of the most common places for in-floor heating, but there are plenty of other places you could use it, too. "In-floor heating is awesome in a basement, and it's also a great option to use in a mudroom – you'll have warm floors when you come inside and take your shoes off," Emily says. 
And if you're finishing a basement, a basement bar area is another place that can benefit from adding in-floor heat. "Since it's a place where guests gather, it's a good place to add in some extra warmth," says Emily.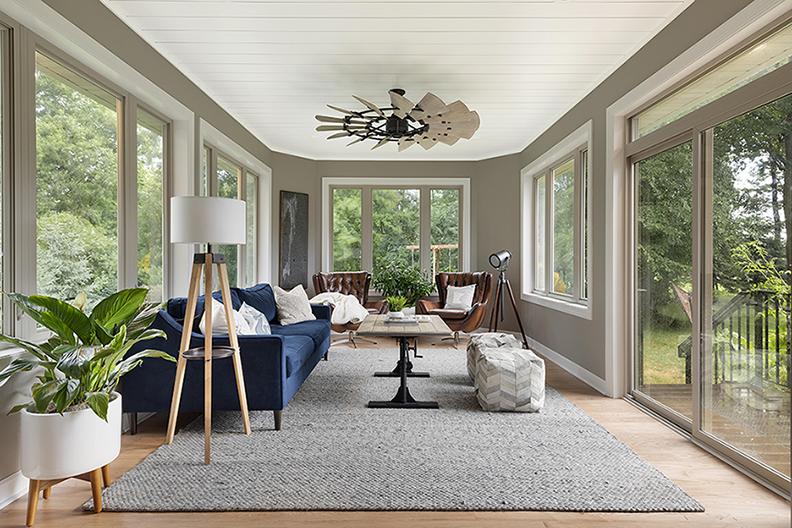 "Home additions are another good place for in-floor radiant heat," says John. In-floor heating warms a room more evenly than forced air out of a vent, so it's a good option to keep home additions cozy during the winter months.
It's not just for new home builds
Though there are types of in-floor heating that are installed when pouring cement in a new home build, if you're thinking of remodeling your home, installing in-floor heating is definitely an option. In-floor electric heating requires its own dedicated circuit, and John shares a tip: "If your master bath is a typical 1980's or 90's setup with a Jacuzzi tub, you already have a separate circuit we can use for in-floor heat during a bathroom remodel." 
Adding in-floor heat gives you comfort and a touch of luxury to your home. "Every project is unique and depends on what each homeowner is looking for," says John. "We'll work with them to make sure we find the best option for their home."
To see how in-floor heating can be implemented into your next
home remodeling project
,
talk to the
JBDB
team
today!