If you're thinking about starting a home remodeling project — whether it's a home addition, adding a deck, or finishing a basement — you might assume that certain projects can only get started during spring or summer, when it's warmer outside. But really, most projects can get underway at any point of the year! JBDB's John Miller, VP of sales and production, and designer Emily Thull provide some tips on how to best plan for the timing of your remodeling projects.
Tip #1: Many exterior renovations can be done year-round
John says that oftentimes, when it comes to exterior projects, they can work with whatever Mother Nature throws at them. "A few exceptions would be with doing patios, concrete driveways, exterior painting, and landscaping – those we would need to plan to do in more favorable weather," he says.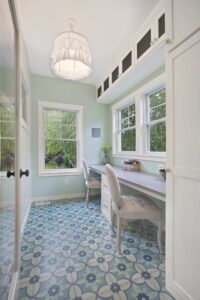 But other projects, like a home addition, replacing windows, or adding a deck, can be done even in winter. So don't feel like you need to wait until spring or summer to reach out and start a project – talk to the JBDB team to help you plan the best start time for your project.
Tip #2: Be proactive about your planning
Most people get the itch to start a remodeling project in the springtime – but because of that, spring tends to be one of the busier times of the year. "After getting through the holiday season, people start to think about remodeling," Emily says. "Whether it's to make updates for the next holiday season, or an upcoming graduation, or trying to get things done before summer hits and the kids are at home, that's a common time for people to start thinking about making improvements to their home."
Instead of waiting until the warmer weather comes around, use the winter months to be proactive and kick off your project. Ideally, you'll want to get the ball rolling on a home renovation three to four months before you want to start your project. 
Tip #3: Ask the experts
If you've been dreaming of remodeling your home but aren't sure how — or when — to start, the JBDB team can walk you through their process and help you determine timelines that best fit your project.
Contact
JBDB
today to learn more!