It's safe to say that 2020 hasn't been the year anyone has expected – but the past few months have still brought some positives! For many, having additional time at home meant more quality family time. As many people have spent more time at home, homeowners are noticing – and dreaming of – improvements that they would like to make. John Miller, JBDB's production and sales manager, and Samantha Schmitt, JBDB's designer, discuss the top three home improvement projects that have been on people's lists during quarantine.
1) Amazing Outdoor Spaces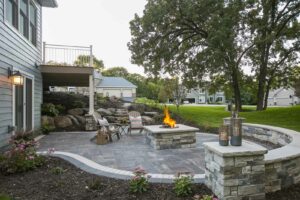 Outdoor gatherings are always popular, but even more so now as people are trying to get together and still be considerate of current circumstances. "An outdoor patio space is really an extension of your home's living area," John said. "A patio creates a designated, usable space and gives you a great place to spend time outside."
Think about the size and configuration you want for your patio, and the extra design elements you would like to add. For instance, outdoor lighting can be so much more than just string lights! From landscape lighting to tikitorches, or more subtle, integrated lighting, you can really make your patio space feel luxurious and relaxing, day or night.
If you're wanting to update your home's exterior and create an amazing patio area, the sky's the limit! JBDB can help you design an outdoor living space that you and your family will use for years.
2) Home Office Upgrades
The new reality of working from home, for many people, also means creating a functional office space to work from. 
According to John and Samantha, some of the key things homeowners need for a good home office is storage, organization, and privacy. "You want a space that can be closed off for conference calls without any background distractions," Samantha said.
John and Samantha said that formal sitting rooms are usually an ideal space to convert into a home office, since that space is typically seldom used by families. Adding in some doors to close it off from other main areas can designate the space as an office.
In terms of storage, while open shelving can add a nice design element to a room, Samantha suggests opting for more closed storage space in a home office. "There are cords, electronics, and clutter that needs to be hidden in an office, and closed storage helps keep things organized," she said. 
But a home office doesn't have to only focus on functionality. Samantha suggests adding trim or other wall detailing to offset heavy cabinetry. Choose a unique countertop material, such as leather with nailhead trim, to create an office space you'll enjoy working in!
3) Updating your Kitchen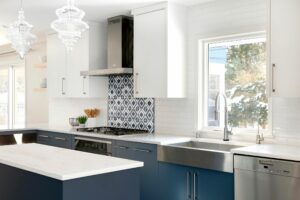 Kitchen remodels are always at the top of homeowners' to-do lists, but especially this year, it's even more crucial to have a kitchen that works well for your family! Big or small, JBDB's team can help you renovate your kitchen and make it a place where you love to spend time. 
For smaller-scale renovations, John and Samantha suggest going the countertop, backsplash, and hardware route. "Updating your counters, backsplash, and hardware is going to give your kitchen a significantly different look, without having to gut the kitchen," John said.
Samantha also added that refinishing the existing cabinetry, updating hardware, and upgrading plumbing fixtures is another combination that will give your kitchen a noticeable facelift.
If you're looking for a complete kitchen renovation, the JBDB team says some of their most common requests in a new kitchen design include ample pantry space and plenty of kitchen seating.
Talk to JBDB's team today!
Though this year has brought many adjustments to how people spend time in their homes, it's a great opportunity to create spaces in your home that you will truly love, use, and enjoy. Talk to our team to get started on your next project!