When a person is considering remodeling a home, oftentimes they're thinking about improving their floor plan, updating design features, or expanding their square footage. However, it's also important to consider ways to make your home work better for you now and in the future. Universal design during a home remodel does just this.
Universal design doesn't just have to be for a couple that wants to stay in their home well into their retirement years. As JBDB's designer Emily Thull says, "I like to tell people to think of universal design as 'user-friendly design' – it's about making choices that make life easier for people of any age."
For instance, there are some life events that you just can't plan for – a sports injury, an accident, having a grandparent come to visit, or needing to unexpectedly take care of an elderly relative for an extended period of time. Having a house that's user-friendly can help make any of those short- or long-term adjustments easier if they ever arise.
And before you think of universal design as clunky, dated, or completely industrial, there are plenty of ways to keep universal design and aging in place in mind without sacrificing your home's design.
Universal Design in the Kitchen
Consider incorporating more roll-out drawers for easier access to everything at waist level. Choose cabinet hardware pulls instead of knobs that you can pull open easily. "It helps to be conscious of appliances – where they are in proximity to each other, and making sure that their controls are at an accessible height," says Emily. In addition, try to include "landing zones" near major appliances – places to set down a dish by the microwave, a pan by the stove, or food by the refrigerator. All of these adjustments can be done without sacrificing design – cabinetry can be done in a beautiful enameled color and hardware can feature a trendy finish if you'd like.
Universal Design in the Bathroom
In the bathroom, zero-point entry showers with benches can ensure an easier and safer environment for everyone. "We've been installing solid blocking into shower walls lately as a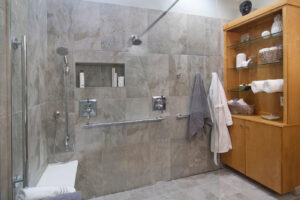 proactive way to prepare for the future, in case homeowners need to ever install support bars," Emily says. She also suggests using a single handle faucet for sinks, tubs, and showers since they are easier to use.
Lighting and Universal Design
An important way to incorporate universal design into your home is through a strategic lighting plan. Sufficient lighting will help with maneuvering with crutches, a walker, or a wheelchair, as well as making tasks more manageable by increasing general visibility. Whether it's adding pendant lighting over a prep space in the kitchen, under cabinet lighting, or bright lighting in a bathroom to prevent tripping or injuries, it's easy to incorporate beautiful fixtures while adding these user-friendly and practical elements to your home.
For more information about how to add universal design elements into your next home remodeling project, contact the Twin Cities design-build team at JBDB today!