Whether it's in a living room, lower level, or even outside, a fireplace is the perfect way to create a focal point in any space. With endless options available, it can be tough to know where to start! Here are some things to consider before updating your fireplace – or adding a new one.
Consider the Space
"When adding a fireplace, you want to make sure the overall design is scaled appropriately for your space," said JBDB's designer, Emily Thull. For instance, a small fireplace may look out of place in a large, expansive den area.
Not only do you want the fireplace to be visually proportionate to the room, but you also want to consider the amount of power a fireplace unit has. "A unit that is too high in BTU output will heat up a room too quickly and you won't be able to really use it," Emily said. "Consider what you need the fireplace to do. Is it strictly for ambiance? For heat? These factors help determine what unit is appropriate for your space."
Consider the Trends
In addition to the size and power of your fireplace, you'll also want to think about what materials you want to finish off the look of your fireplace.
Choosing the right materials can help you either seamlessly blend your fireplace into the rest of your home design, or it can help you make a statement. If the rest of the space is fairly neutral, the fireplace could create an exciting focal point by incorporating an unusual material or a patterned tile.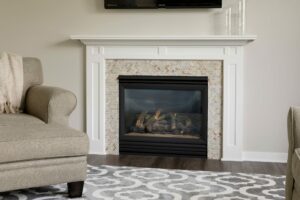 If you aren't feeling so bold, however, you're not alone: "Simplicity in design has been the frontrunner on fireplace designs as of late," said Emily. Simple certainly doesn't mean boring, though. Consider using warm, natural materials like wood and adding in a mix of textures. Reclaimed timber mantels are currently popular and can work well with a variety of design styles, from rustic to traditional to contemporary.
"Mixing materials like stone and shiplap can add interest," said Emily. "Simple cabinetry, neutral colors and dimensional tile are all popular right now and allow you to switch out décor easily."
Another popular choice is to place the TV above the fireplace. "You'll want to make sure that you keep the TV at a comfortable viewing angle," Emily added. "You also want to plan for a way to conceal the TV components to keep unsightly cords out of view, such as strategically placing a piece of furniture in front of cords and outlets. Built-in shelving can also be a sleek way to house and hide AV components."
Consider the Codes
Adding a fireplace to a home addition, basement design, or a current living area requires a knowledgeable contractor to ensure everything is done properly – and safely. "There are a lot of code requirements when adding either a gas or wood-burning fireplace to your home," Emily said. "It's best to work with a professional who understands what is required so the process is seamless and cost effective. No one likes to move backwards!"
If you're wanting to cozy up to a fireplace on a chilly winter night,

talk to the home design

experts at JBDB to create a warm, cozy and beautiful place for friends and family to gather!