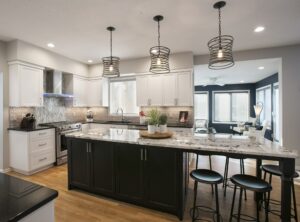 We are excited to announce that our redesigned website is now here! Please take some time to browse around and experience all the new features and enhancements for yourself. We feel that this new design accurately captures the James Barton Design-Build brand by letting the quality of our work speak for itself through photos of our past home renovations and testimonials from our homeowners.
Earlier this year, we began discussing ideas for the site and how to provide better ways for our clients to connect with our team and home renovation services online. Four months later, we are proud to say that this website achieves everything we set out to do and more! Below are just a few of the new features on the website that we are most excited about:
Updated Photography
A comment we consistently hear from our clients is how stunning the photography of our home remodeling projects is. Unfortunately, our old website design just wasn't able to prominently display pictures in the way we needed it to. Photography took a front seat in this website redesign and that is reflected on every page of the website. From the large slider images on the homepage to the multiple photos on each service page, examples of our projects can be found on every page. Users can also browse portfolios of home remodeling services including:
Before & After Home Remodeling Photos   
One of the most exciting new features on our website is the Before & After portfolio. This interactive tool allows users to slide between before and after photos of a home remodeling project. You can view transformations of:
Kitchen Remodels
Bathroom Renovations
Interior Home Designs
Outdoor and Backyard Designs
Our Home Remodeling Process
Home remodeling can be a complicated and intimidating thing. We strive to make every home renovation project a straightforward process for our homeowners and now that process is laid out on our website. The new process page provides a step-by-step overview of what to expect when working with our home design team. From the initial home renovation consultation until the last truck leaves your house and beyond, we aim to make the process as straight forward as possible.
Please take some time to browse through our new website to discover even more cool features and enhancements. If you'd like to see your home featured on our website, contact our home remodeling company to set up a consultation with our home design and renovation team today!