From quartz to granite, to butcher block and concrete, there are a huge variety of countertop materials you can use in your home remodeling plans. With an overwhelming amount of options, each with their benefits and drawbacks, it might feel impossible to know where to start! JBDB's designer Emily Thull provides a rundown of countertop options to help you determine what will work best for your home.
Pros and Cons of Stone Countertops
Stone is one of the most popular options for bathroom and kitchen countertops and there is a large range of options when it comes to stone countertop materials: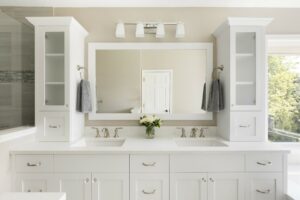 Quartz: "Quartz is very popular right now," says Emily. "It's man-made, and they have gotten so good at making it look realistic. Quartz is one of the most durable options out there and requires no maintenance – no sealing, no worrying about staining, scratches, or chipping."
Marble: "Marble is beautiful and is really durable – think about the marble columns in Italy that have lasted hundreds of years," Emily says. "However, it can etch easily, and you need to be careful with acidic products around marble – lemon juice or hairspray could easily etch the finish."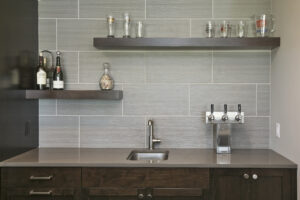 Granite: "Granite can be an economical choice, and it comes in such a huge variety of colors and patterns – you can make it be the standout feature of a room or have it complement your overall design," says Emily. Keep in mind that with granite, you will have to periodically re-seal it for maintenance.
Other natural stone options: "As much as we can reproduce things, there's something to be said about the natural beauty of what comes straight out of the earth," Emily says. "You're going to get something very unique and one of a kind." Soapstone typically has unique veining but is a softer stone; limestone is porous and usually has a more linear grain; onyx is a standout material since it is semi-transparent – so you can backlight it for a gorgeous feature in your home, and it comes in a wide range of colors.
Other Types of Countertop Materials
If you're looking for something different than stone for a countertop, there are plenty of other options that can work well for your home renovation!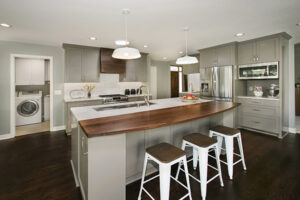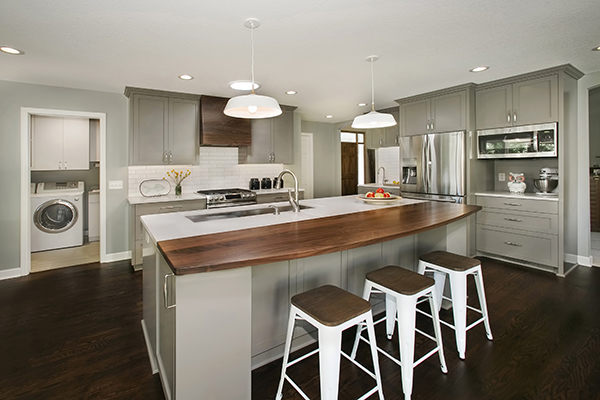 Butcher block: "Butcher block counters are super heat resistant – you could definitely take something off the stove and put it directly on it without worrying," says Emily. "Since it's wood, if you cut directly on it, it will dent and scratch – you can either be okay with that as part of its character, or you can buff and oil it to minimize those markings."
Emily adds, "Butcher block also provides a warmer, more forgiving feel than stone – it can be a good choice for a dining surface and give a space a homey feel."
Glass: Though it might seem surprising, glass can work as a versatile option for countertops. "You can do a very thick glass – it can be textured or sleek, it could be dark or brightly colored, and can be super modern or traditional depending on the type of glass and how it's used," Emily says.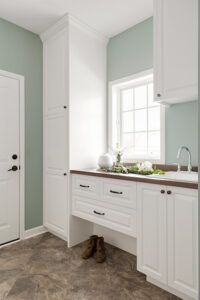 Concrete: "There are lots of ways to customize concrete," says Emily. "There's a whole range of coloring and staining, and you can imprint a lot of different textures or patterns into it. You can also do integrated sinks with concrete." For maintenance, you will have to seal the concrete to protect it, and it can stain from certain foods or products.
Laminate: Gone are the days of dated, dingy laminate countertops! "Laminate countertops have come a long way in their technology," Emily says. "Their printing and edging techniques have really improved, and it's a very cost-effective way to get the look of real stone, wood, or marble." With laminate, there is no maintenance, and it won't stain; however, it is possible to scratch laminate if you cut directly on it, and you wouldn't be able to buff marks out like you would with stone or wood.
Ready to Make Your Dream Countertop a Reality?
Homeowners can really use their countertops as a way to showcase their personal style. Each material has its benefits, and the best fit depends on each family and their lifestyle. JBDB's expert design team will work with you to find the best options for your family and your home.
Whether it's for a laundry room remodel, kitchen update, or bathroom renovation, our team will help you find the best materials to suit your style. Contact us today to get started!