When you think about your future, do you imagine staying in your home long-term? If you are looking to age in place at your current residence, implementing an accessible home design can make the transition easier and more seamless. At JBDB, we can take your dreams to stay in your home and create a universal design to make it possible. These home modifications aren't simply practical – they can be beautiful as well.
Creating an Accessible Home Design
Embrace the Open Concept
Giving yourself more space to move around is a key aspect of universal design. An open concept leaves plenty of room for walkers or wheelchairs. You may want to consider relocating your most-used living areas, including bedroom, bathroom, and laundry, to the main level. That helps to make your home accessible, no matter your mobility.
Wheelchair Accessible Bathroom Design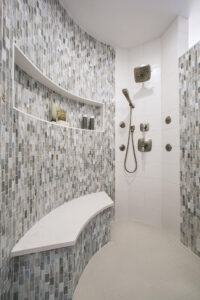 A bathroom overhaul doesn't only allow for easier access – it can be a chance to give your bathroom a brand new look. When renovating for accessibility, consider adding features like: 
A walk-in shower with a bench 

Adjustable or hand-held showerheads 

Grab bars 

Slip-resistant flooring 
"The bathroom is a key place for modifications," notes Kayleigh Queoff, one of JBDB's designers. "Because slippery floors can lead to falls, look to add safety elements. With the right team, those additions can blend in seamlessly with the overall design." 
With upgraded features and a new design, your bathroom will feel fresher and be easier to navigate. 
Kitchen Renovation
A kitchen is often the heart of a home. Minor adjustments can bring major accessibility to this beloved space. 
"We recommend upgrading to new appliances with easily readable controls. You'd be surprised how handy those come in down the line," says Sydney Monson, one of JBDB's designers. "You also may want to consider a side-by-side refrigerator/freezer. With those models, everything is easier to reach, which is what you want when planning for the future."
Glass-front cabinets and pull-down shelves also make frequently used items visible and within reach. 
Consider Smart Technology
These days, it's easier than ever to adjust aspects of your home without getting up from your chair. From setting home security to changing the thermostat to turning on or off the lights, smart technology requires only the touch of a button or a simple voice command. Adding in these pieces can make your day to day life easier.
Look to JBDB for Accessible Home Designs
If you're looking to begin the process of remodeling your home to age in place, check out our work at James Barton Design-Build. With extensive experience in home remodeling in Minneapolis and surrounding areas, our team handles renovations with expertise and care. 
Take a look at our aging in place gallery as you gather inspiration for your future design. Questions about the process? Contact us. We'd be happy to start a conversation to help you feel comfortable with this transition.