If you're already anticipating a new year's remodel, you're not alone. And with interior design trends for 2022, there's tons of inspiration to pull from. Today, our JBDB designers talk you through current and expected design trends to watch out for in 2022 and whether we would Love It or Leave It. 
Trend #1: Tone on Tone
Love It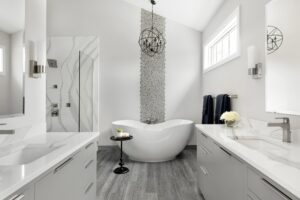 Layering shades and textures of the same color allows you to create a soft, calming interior. "The key to keeping this trend from feeling dull or monotone is to really focus on different textures," said Sydney. 
Our JBDB designers can help you navigate this trend as we work to create a room that looks and feels dynamic without cramming in too many color palettes. 
Trend #2: Trim Work
Love It 
Homeowners are adding depth and dimension to their walls with trim. Crown molding, board and batten, picture frame trim and millwork can add so much to your home. 
"Adding millwork can really transform a space," says Kayleigh, one of JBDB's designers. "There are so many types and styles to choose from, and it can really dress up a room."
(Read more of our unique millwork ideas here.)
Trend #3: Black Accents
Love It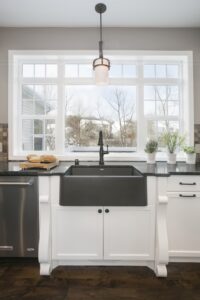 If you haven't experimented with black accents before, you might be surprised by how seamlessly they can blend with other colors already established in your home.
"Black accents add depth to a space," says Kayleigh, one of JBDB's designers. "Its versatility makes it a great statement piece, especially against a pale or neutral background."
Whether it's adding a matte black faucet to your powder room sink, using black hardware on your kitchen cabinets, or switching out your old dining room fixture for a stunning black chandelier, strategically adding black accents can really make a big design impact!
Trend #4: Natural & Mixed Materials
Love It 
Natural materials – such as wood, copper, iron, and stone – are finding their way into more home design. By combining different materials together, you create a layered, personal, and more customized feel to your home.  
"We see more homeowners aiming for longevity and timelessness with their design," says Sydney, one of JBDB's designers. "Natural materials bring the outside world into your home in an elegant way."

We're seeing an emphasis on texture achieved through a deliberate mixing of materials. Look for incorporating mixed materials by combining two different types of tile in a space, adding in a textured wallpaper like grasscloth onto your walls, or even mixing finishes (like matte black and brushed brass) into your kitchen or bathroom.
Trend #5: Muddy Tones
Love It – In Moderation 
'Muddy tones' including taupes, greige, gray-blues, sagey-gray greens, even murky rose tones are becoming popular paint choices for cabinets and walls. This trend doesn't work for every home design. However, if those colors are speaking to you, go with it!
"The JBDB team typically recommends trying a trendier color palette in a smaller space, such as a powder bath or even a pantry," says Sydney. "A cozy den area might also be a great place to try out a more muddy-toned palette."
Let JBDB Tackle Your Next Remodeling Project
Whether you have an exact vision in mind or need assistance with your design, the JBDB team is by your side through the whole process.  Whether you're looking forward to custom cabinetry, slab backsplashes, or want to add gorgeous trimwork, the new year is all about a fresh start.
Contact us today to get started!