If the additional time we've all been spending at home has you wishing for a little extra space, know that you're not alone! If you're thinking about how to increase your living spaces without the hassle of moving, adding a three season porch might be a good choice for you. Check out some of the benefits of adding a three season porch to your home!
1: Working With What You Have
By definition, a three season porch is an enclosed outdoor living space that can be used during three seasons – spring, summer, and fall. Unlike some other types of home additions, a three season porch typically involves taking an existing deck and converting it. So if you're looking to add square footage but don't have the space to build out elsewhere, take what you already have and make it work even better for your family!
2: Blending the Best of the Indoors with the Best of the Outdoors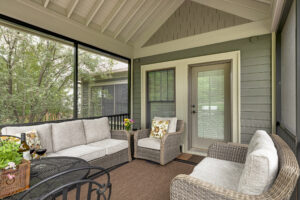 One of the biggest advantages of a three season porch is that it allows you to enjoy the best of both the indoors and the outdoors! With a three season porch, you can enjoy spending time outside while keeping the bugs at bay. A three season porch also provides extra shade, as well as protection from rain. 
3: Flexibility for Your Budget
A three season porch is a practical way to gain livable space on a slightly smaller budget. Since a three season porch doesn't involve pouring additional foundations, adding insulation, or running additional HVAC, it's a great option to consider if you have some budget restrictions.
4: Adding Design Details
Though there are lots of decking design options available, a three season porch allows you to design an exterior space with more of an interior feel. Whether it's adding overhead lighting or an outdoor fireplace, there are a few more design opportunities available when finishing out a three season porch.
Get Inspired By Our Project Portfolio
If you're dreaming of a bonus living space for your family to enjoy, check out our
project portfolio
for inspiration and talk to the
JBDB
team with any questions you have!
JBDB's
design-build team will work with you to discuss your options and find a solution that fits your family's needs.
Contact us today
to get started!