If a bathroom remodel is on your list of things to do next year, now is the perfect time to start gathering inspiration! JBDB's designers Kayleigh Queoff and Sydney Monson share expert opinions on the latest bathroom trends this year.
Bathroom Trends 2024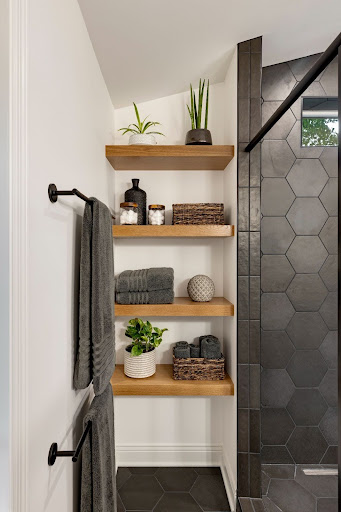 Trend #1: Organic Textures
Kayleigh: Love it  •  Sydney: Love it
Natural materials like wood, stone, bamboo—even houseplants are making their way into the bathroom, providing depth and texture. Because they are soft and soothing, they add a spa-like atmosphere to this part of your house. 
"Organic textures bring elements of the natural world into your home for a relaxing atmosphere," said Kayleigh. "You can choose how much you want: incorporate small touches or go all out with an accent wall. It's up to you!"
Trend #2: Warm Neutral Tones
Kayleigh: Love it  •  Sydney: Love it
Warmer neutrals have become the go-to tone for bathroom design, replacing cooler undertones from years past, including grays, taupes, creams, beige colors, or earthier tones, like rich brown and muted greens and pinks. 
Sherwin Williams's 2023 Color of the Year, "Redend Point," is one such example hue—an earthy blush pink that offers warmth and subtlety.
"We can help you incorporate color into your walls, tile, and hardware," said Sydney. "From there, we use complementary tones and shades to give the room dimension."
Trend #3: Vintage Elements
Kayleigh and Sydney: Love it, with a twist
Adding a vintage piece – a mirror, vanity, or claw foot tub – adds character to an otherwise new and updated space. But that doesn't mean you have to source an authentic vintage piece. You can find a piece that looks that way. 
"Vintage-inspired pieces are becoming more commonplace," noted Kayleigh. "It's easy to find something that looks older but is functional and durable. That way, you can enjoy the best of both worlds."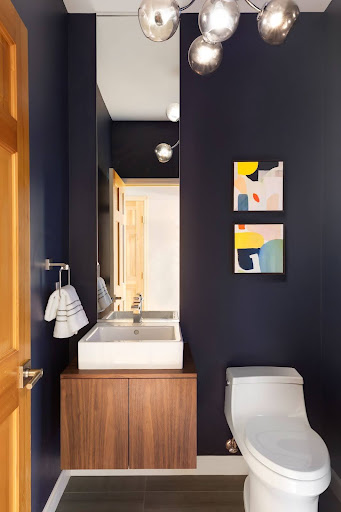 Trend #4: Bold Powder Room Designs
Kayleigh: Love it  •  Sydney: Love it

Smaller powder bathrooms are perfect for experimenting with the latest bathroom trends. Take risks, utilize color, and have fun: wallpaper on the ceiling, oversized art pieces, uniquely incorporated tile, or interesting bathroom hardware. 
"Chances are, you're not using the powder room as much as the master bath," said Sydney. "That makes it the ideal place to incorporate some unexpected elements for a 'wow' factor. After learning about your stylistic preferences, we can pitch exciting ideas for your consideration."
Trend #5: Standout Light Design
Kayleigh: Love it  •  Sydney: Love it
Focal light fixtures, like a chandelier, are predicted to elevate 2024 bathroom designs. Consider adding one above the bath, around your vanity, or in the center of the room. From there, a mix of smaller fixtures and accent lighting personalizes the space even more. 
"Good bathroom lighting is essential," said Kayleigh Queoff. "You want enough light to get ready without overpowering the space. Mixing fixtures and utilizing dimmers help you tune the lighting to your preferences in the moment."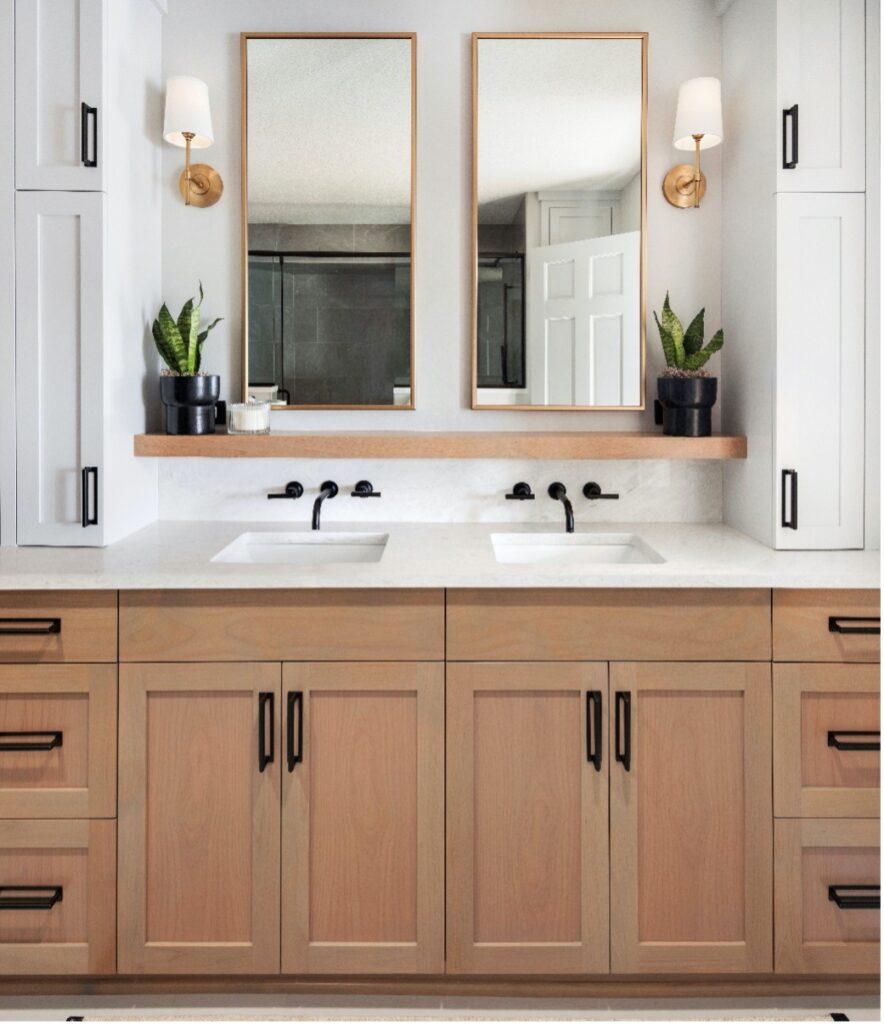 Finding Your Style Beyond Bathroom Trends 
If trends don't fit your personal style preferences, that's okay. A professional Minneapolis bathroom remodeling company will learn about you and your needs before putting together ideas and concepts. 
Hire JBDB for Minneapolis Bathroom Remodeling 
No matter what idea speaks to you, the JBDB team can talk you through it. Check out James Barton Design-Build's Minneapolis bathroom remodeling projects for more pictures and inspiration! Then, design a bathroom that fits your style and daily life. Fill out the form below to begin.
"*" indicates required fields