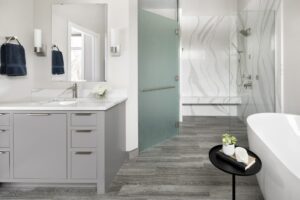 An ensuite bathroom should be a place for homeowners to be able to relax and unwind. For homeowners in Inver Grove Heights, their drab, dated bathroom was begging for an update. Not only did they want a master bathroom that looked high-end, but they also wanted the practicality of a space that functioned well and was easy to maintain.
To do this, the JBDB team created a plan that would feature a sophisticated, neutral color palette and incorporate different textures and materials that would provide style and functionality at the same time.
Transforming the Bathroom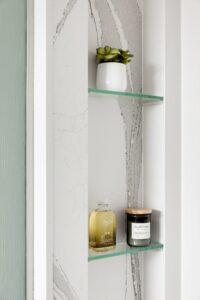 The JBDB team took out the old vanity, drab tile, and corner jacuzzi tub from the master bathroom. After taking the bathroom down to the studs, JBDB reconfigured the bathroom space to feature two vanities, a large standalone tub, and a walk-in shower.
The neutral gray color palette, combined with the vaulted ceilings, made the bathroom feel bright and spacious. A large window was removed and replaced with a transom window, to still let in natural light but provide privacy.
Porcelain floor tile, made to mimic the look of wood planks, was installed throughout the bathroom and used to seamlessly integrate the shower with the rest of the bathroom. 
Check out other bathroom before and afters!
Making a Statement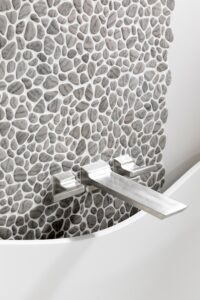 The JBDB team installed a stunning Kohler tub and further accentuated it with a strip of river rock that runs all the way up the vaulted ceiling. A modern wall-mounted faucet brings the tub and featured rock together, and statement lighting hung above the tub provides depth and contrast to the lighter grays and whites in the rest of the bathroom.
The shower features Cambria quartz panels with bold gray veining. Not only are the quartz panels modern, but they also are very easy to maintain and keep clean in comparison to more traditional tile and grout. A shower head, body sprays, and hand-held shower give the shower a true spa-like feel!
The new vanities echo the Cambria quartz used in the shower, and the dark gray bases feature custom storage options for makeup and a pull-out power outlet. The bases also feature easy to clean, modern slab-front cabinet fronts.
Enjoying the Results
After the remodel, the homeowners now have a spacious, practical, and beautiful master bathroom to enjoy. "I could not have done this without [JBDB]," said the homeowner. "I am so grateful for their help and I appreciate everything they've done."
To see the full remodeling process on this project, check out our new featured project section. 
If you're thinking of remodeling your bathroom,

talk
to the experts at JBDB to help get the ball rolling and bring your dreams to life!