Your bathroom vanity might not get a lot of attention, but it's a key element of any bathroom design—so why not give it the update it deserves? If you're planning a bathroom remodel, the layout, tile, and fixtures often take center stage, but it's important to determine what you need for your vanity, too. 
JBDB's designer, Samantha Schmitt, shares the top three key things homeowners should consider when designing a custom vanity!
#1: Define the Purpose
"Off the bat, the type of bathroom will make a big difference in deciding how your vanity needs to function," Samantha said. For instance, a kid's bathroom will see heavy everyday use, where a guest bathroom may only be used occasionally. A master bathroom will likely have more space, where a smaller powder room will utilize a smaller footprint. The type of vanity you need will depend on its overall use.
#2: Determine Your Bathroom Vanity Storage Needs
A custom-built vanity is the best way to ensure you get storage solutions tailored to your specific needs. "We get a lot of requests for a 'hot tools' drawer," Samantha mentioned. "There are heat-safe sections for hair curlers and hair dryers and it features a plug in the drawer, minimizing clutter on the countertop."
Another custom storage solution includes pull-out hampers, which is great for a master bathroom or kid's bathroom, Samantha said. And pull-out step stools are another great feature to consider for a kid's bathroom vanity.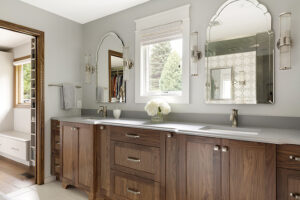 "Custom storage is great, but it's important to balance it out with multi-use storage solutions, too," Samantha said. A mix of custom storage, plus typical drawers and cabinets, is the best way to make sure you have options for everything you need to make your bathroom function seamlessly.
Check out our recent featured bathroom project!
In a powder room or guest room, if you choose to do something like a pedestal or free-standing sink, Samantha says you just need to get a little creative with your storage. "I'm always a fan of using baskets—they double as decor and storage," she said. Floating shelves, corner shelving units, and bar carts are all examples of how you can turn storage into more of a display piece.
#3: Design the Details
Sinks and fixtures are, of course, one of the biggest components of a bathroom vanity, so it's important to determine what you are looking for. "One of the most common things people ask about is the size of their sink," said Samantha. "They want the biggest sink possible, so it's easy to wash their hands, face, or even wash their hair," she said.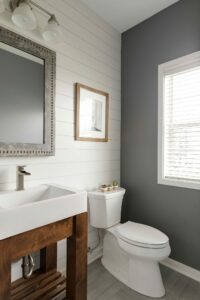 In terms of fixtures, with such an enormous array of options out there, it's more about honing in on what works best for you. "Most people tend to want a single-handle faucet, especially in a kid's bathroom," Samantha said. It tends to be easier to use, and kids won't accidentally turn on only the hot spigot.
Browse through our project portfolio for inspiration!
Wall faucets are a unique way to create some interest in your bathroom design, too. "You need to keep the faucet the right distance from the sink, so it doesn't splash," said Samantha. "You can also add a larger, decorative backsplash—not only is it functional, but it looks great, too."
Get Started on Your Next Bathroom Remodel
The design team at
JBDB
can create custom solutions to make sure your bathroom looks, and functions, at its very best. Our design-build team will walk through the process with you to create a bathroom design that you and your family will love!