As we spend more time at home, homeowners are increasingly looking for ways to maximize space. Your spare room might be the perfect spot to double up as another household area—once it's slightly reimagined. And the James Barton Design-Build Team can make it happen. 
Try These Spare Bedroom Ideas
If you're looking for more room but not ready for a home addition, here are a few ideas to convert that unused spare room into a more functional space.  
Create a Playroom  
If your living room is overrun with toys, you might want to convert an unused spare room into a playroom. Having a separate area means your kids can play to their heart's content without disrupting common areas! 
"We love putting together kid-centric spaces, where they can showcase their creativity and personality," says Kayleigh Queoff, one of JBDB's designers. "Plus, flexible storage solutions make clean-up time easier – and more fun – for everyone." 
Invest In Your Own Permanent Work-From-Home Office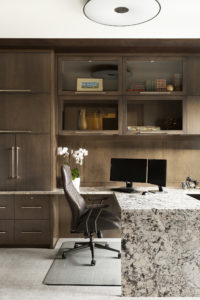 Closing a door at 5 pm helps reestablish some of the work/life balance that's been blended together over the past few years. If you are now working from home permanently, it might be time to renovate your spare room into a more work-friendly environment! 
JBDB can design, build, and integrate custom cabinetry and lighting within a layout that aligns with your work needs. Adding room for a standing desk or a large picture window can keep you motivated during the afternoon slump. 
Need a few spare bedroom office ideas? Read our blog about office inspirations to gather a few ideas. 
Sweat It Out With a Home Gym
With a few remodeling tweaks, you can turn your spare bedroom into a home gym. By maximizing the layout and incorporating a murphy bed, you can have the best of both worlds—a space for guests to sleep and a place to work out. 
"With home gyms, it's all about function," notes Sydney Monson, another JBDB designer. "Our team can design a layout that feels and functions like a gym without looking too much like one!"
Build a Home Theater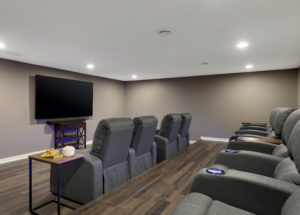 If you're one of the many Americans opting to enjoy blockbuster movies on your own turf, you might be craving a home theater to match. Turn your space room into a theater with quality speaker systems, screens, seats, and a customized soft lighting plan. The right sound-dampening carpet and light-blocking curtains absorb noise and light so you can concentrate on the action happening in front of you. 
Make the Most of Your Home 
Whatever your need is, you deserve a home that works for you. If your home has been feeling cramped, making the most of an underutilized space can make a huge difference. Our dedicated team of designers creates beautiful, functional rooms that serve your family's needs and lifestyle.

Look through our featured projects to see how we've helped homeowners achieve their dreams. Then, reach out to our dedicated team to work on your own spare bedroom ideas.