Planning a bathroom remodel comes with quite a bit of decision-making. One set of choices that dramatically impacts your room's transformation? Lighting. Lighting can set a mood — whether it's energizing in the morning or calming at night. Our James Barton Design-Build designers talk you through the ins and outs of choosing bathroom vanity lights that work for and enhance your vision.
Choosing Bathroom Vanity Lighting
Whether waking up or winding down, incorporating the right lighting into your bathroom remodel makes a big difference! This design element is easier if you consider the following steps:
Incorporate Natural Light 
You want light sources to compliment the natural light you already have. Depending on the size of the remodel, you may be able to add a window or two to get more light. If you're worried about privacy, they can be strategically placed to offer the best of both worlds.
If adding windows isn't the right choice for you, LED lights can compensate for a lack of natural light. 
Why You Want to Skip the Recessed Vanity Lights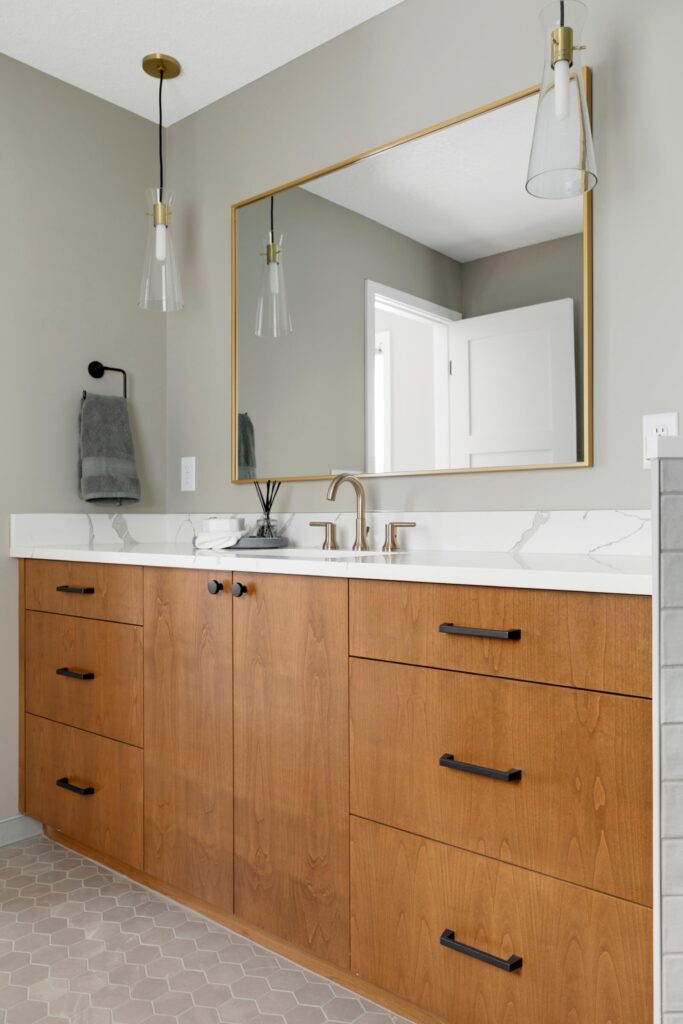 Recessed lights can certainly be an asset in a bathroom, but, perhaps, skip them around your vanity. 
"Recessed lighting works best as task lighting above the shower or toilet, as opposed to above or around a vanity," said Sydney Monson, one of James Barton Design-Build's designers. "We can look through other soft lighting configurations to achieve a calming look that is still flattering."
The Perfect Placement for Wall Sconces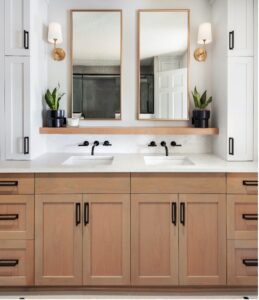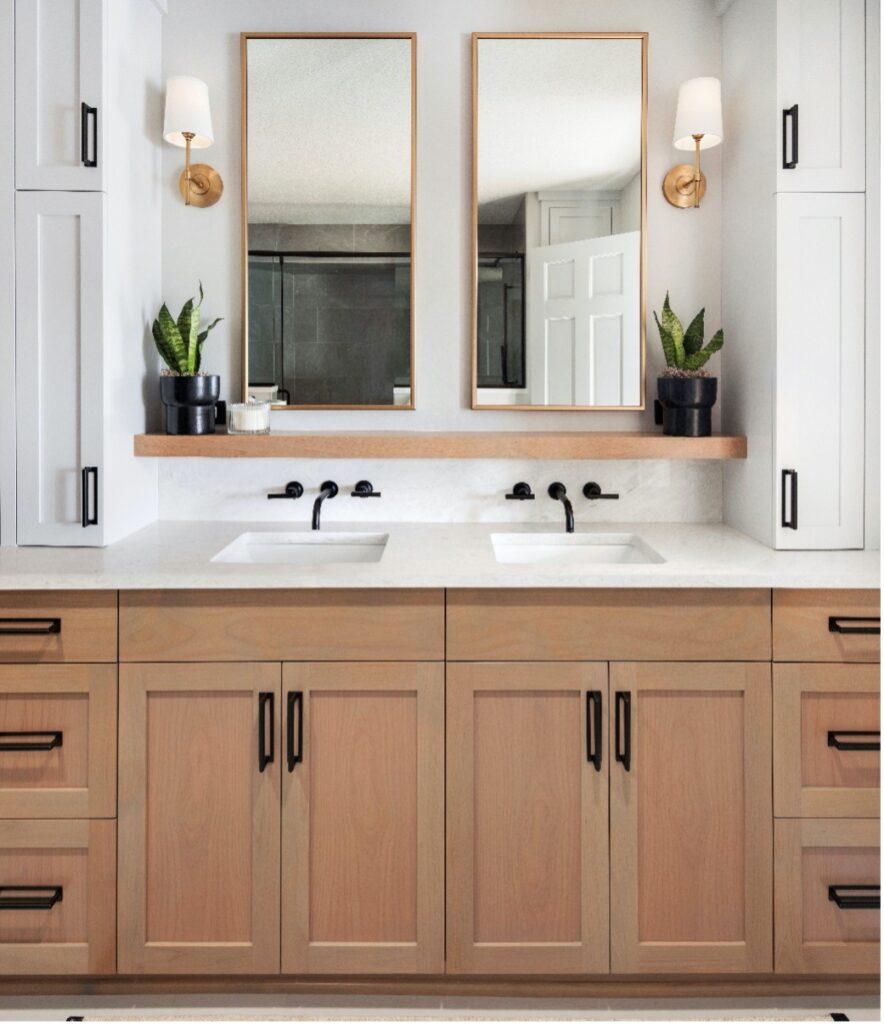 One of homeowners' biggest questions during a bathroom remodel is wall sconce placement. Generally, sconces work well above the mirror or symmetrically placed on either side, depending on wall space, fixture style, and the rest of the bathroom's lighting plan. Factoring in enough breathing room between your mirror and light fixtures helps the room feel expansive.

Our design team can create a plan to ensure that the height, spacing, and placement of your vanity lighting all come together to create a beautiful, functional result.
Break Out of Your Home's Overall Style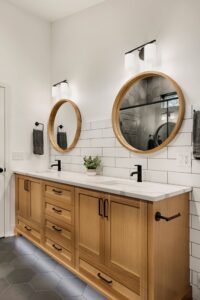 It's a given that you'll want a lighting source by your vanity mirror. Early on in the planning process, the JBDB team can help you hone in on your particular style.
Because your bathroom is separated from the rest of your home, it can be the perfect opportunity to experiment with different styles. If your home is relatively classic, you might opt for a more modern design in your bathroom. Modern bathroom lighting, such as bar lights, can give the room extra flair, while traditional wall sconces might be just right.
Mixing and matching metals, including chrome, silver, brass, or gold-toned bathroom light fixtures, is an easy, exciting way to embolden the design. 
Pay Attention to the Type of Bulbs You Use
There's nothing worse than putting lots of time and effort into your bathroom remodel, only to use unflattering bulbs. Frosted or coated bulbs or dimmer switches temper bathroom vanity lighting to soften your appearance in the mirror. Conversely, clear glass bulbs can also be an elegant touch. 
"People tend to look the best when illuminated by light bulbs that measure around 2700 kelvins," – The New York Times
Think Outside the Box
One of the best parts about hiring a design-build company is our designers can suggest bathroom light fixtures you might not have considered. 
"We love compiling a range of design options for our clients, whether it's LED lights or farmhouse sconces," said Kayleigh Queoff, another one of JBDB's designers. "At our design meetings, we can present possibilities to inspire a look clients might never have considered."
Curious about how your remodeling designs come to life? Read answers to your remodeling design questions.
Brighten Up Your Bathroom With Bathroom Vanity Lights 
If you're ready to transform your bathroom with a team of dedicated designers and builders, James Barton Design-Build is at the ready. They specialize in listening to clients' needs to offer transformative remodeling solutions that improve day-to-day life. 
Schedule your consultation — let's create a space you love.