For centuries, millwork has been an elegant way to add character to home designs. If you're planning an interior remodel in the near future, consider adding this beautiful architectural feature.
What is Millwork?
Millwork refers to design elements made in a mill. This decorative, custom woodwork can include cabinets, doors, crown molding, and other features that elevate your home's design.
Depending on your layout, you can use decorative moldings to create visual interest on the bottom half of a wall, an accent wall, or on the ceiling.
Millwork Vs. Wainscoting
Wainscoting refers to a specific genre of millwork. This system of decorative molding panels is typically (but not always) reserved for the lower half of walls, ending at chair rail height—32 inches or less. Usually, it extends around the room's perimeter, although it can be elegantly interrupted with built-ins or other functional or decorative elements, such as a fireplace.
Back in the 1700s, wainscoting originally served as an insulator. But even with the invention of central heat, it's never really gone out of style. Today, it's used primarily as a decorative feature, although it can also act as a buffer against bumps and scratches from the furniture.
"Wainscoting can be used throughout the house," said Sydney Monson, one of JBDB's designers, "But it's particularly effective in a foyer, dining room, kitchen, or bathroom."
Where Does the Term "Wainscoting" Come From?
While the exact origins are hard to pinpoint, many scholars believe the term comes from the German word for "wall-board." The other theory derives from the original wood used for the paneling: wainscoting oak, specifically chosen for its lack of knots. While the wood type has changed over the centuries, the name has not.
Finding the Right Wainscoting for Your Home
Different wall trim styles accentuate a variety of home styles.
Traditional
More traditional-looking wainscoting may include ornate trim pieces, including raised paneling, overlays, or beveled edges.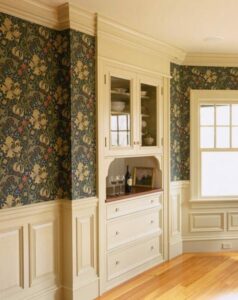 Modern
A flat, simple wall trim offers a clean, sleek look for modern homes.
Farmhouse
Board and batten wainscoting adds a rustic flair to a farmhouse.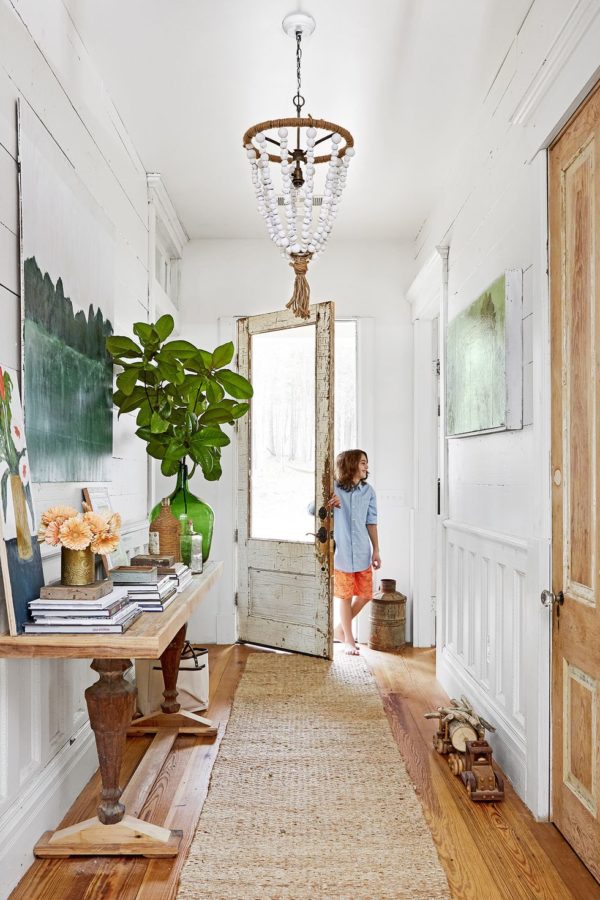 Having a hard time determining what style best reflects you – and the rest of your home?
"Our team will help walk you through your options to find the perfect fit," said Kayleigh Queoff, another JBDB designer. "Sometimes an outside eye can imagine a solution you haven't considered."
Top Four Wainscoting Ideas
Once you decide to use this decorative molding, what do you do with the rest of the wall? Here are a few considerations:
Coordinate With Wallpaper. Go bold with wallpaper above neutral-colored wainscoting.
Paint. Pairing white wainscoting with a saturated paint color can dramatically transform a room. Alternatively, paint both the molding and the wall with a neutral color for a monochromatic feel.
Pair It With Art. Whether you hang the art symmetrically or asymmetrically is up to you.
Create a Headboard. With the right design team, a paneled headboard built onto the wall gives your bedroom added elegance.
Read Three Unique Millwork Ideas to Add Character to Your Dining Room.
Classic Remodeling Designs
After 300+ years, it's safe to say this wall trim isn't going out of style anytime soon. Investing in timeless home elements is an excellent investment, whether you plan to stay in your home for the foreseeable future or you want to increase its resale value.
An updated home can bring joy into your daily life. If you're ready for a remodel, contact the James Barton Design-Build team today. Reach us through our online form, call us at 952-431-1670, or email us at info@jbdb.biz.
Sign up for our newsletter