If you have a bonus space above your garage that you're thinking about finishing, why not make it the perfect place for friends and family to gather? A home theater is a great option for turning the bonus square footage above your garage into one of the most-used places in your home!
Creating a home theater may seem like a novelty, but you'd be surprised how versatile the space can be for your family. From family movie nights, to having people over to watch sports games or a dedicated space for teenagers to hang out, a home theater can act as its own unique destination, without having to even leave your home.
"One advantage of having a home theater above your garage versus in your basement is that, since it's a little separated from the rest of your home, sound won't travel and disrupt others as much," said Emily Thull, one of JBDB's designers.
To get started on creating a home theater your family will love for years to come, here are some things you'll want to consider:
Lighting
Plan for a variety of lighting sources to make sure your home theater has functional lighting options. "Especially for a home theater, you'll want to have some versatility," Emily said. She recommends having overhead recessed lighting as well as including some wall sconces. "You can definitely integrate some LED lighting in a cool way, such as adding tread lighting along baseboards or steps if you have stadium-style seating so people can easily walk around during a movie," she added.
Also consider how you control natural daylight coming in – plan your window placement and window treatments so you are able to have flexibility to fully darken the room when you need to.
Sound
It's best to get a good handle on how you'd like your sound system set up in the very early stages of your bonus room design process. The electrical for a sound system will need to be wired before drywall goes up, and if you're planning on soundproofing, that will need to be done prior to drywall as well. 
When deciding on your finishes, make sure you consider using softer surfaces to absorb sound. Carpeting, upholstered furniture, thicker curtain textiles and room-darkening shades can all do double-duty to provide some fun design style as well as functionality.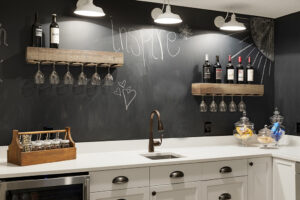 Snacks
Doing a wet or dry bar in your movie theater room ensures your guests have easy access to snacks – and saves you from running down to the kitchen to refill on popcorn. Think about adding in a mini fridge for beverages, a microwave for popcorn, a toaster oven for heating up frozen snacks, or even a fun display for your favorite movie candy! 
Gather up your inspiration and ideas for your
home movie theater design
and
talk to the
JBDB
design-build team
to create a bonus space that you and your whole family will enjoy for years to come!