Your pantry might be one of the most visited spaces in your home, which means your pantry door is getting a lot of attention. When did you last look at how your pantry door fits into your kitchen design or if it was conducive to your daily life? If you are ready for a change, here are a few pantry door ideas from the James Barton Design-Build team. 
Pantry Door Ideas to Incorporate Into Your Next Kitchen Remodel 
These pantry door ideas can drastically change how your kitchen looks, feels, and functions. 
1. Pantry Barn Door 
Barn doors are ideal for narrower pantry areas and also work well with farmhouse-style kitchens. They make the content of a wide pantry accessible, whether you're searching for a late-night snack or preparing a big dinner. Depending on your style, they can become a focal point of the room or blend into your kitchen's surrounding design.  
2. Pantry Pocket Door
Pocket doors disappear into the surrounding walls, occupying less space and offering an understated, simple addition to your kitchen's functionality, making them another great option for narrow spaces. For a bit of a twist, pocket French doors are a beautiful way to imbue your kitchen with elegance. 
"The nice thing about a pocket door is that it has the best of both worlds, especially if you're looking to maximize square footage," said Sydney Monson, one of JBDB's designers. "You can leave your pantry open without losing space around the door."
3. Glass Pantry Door 
Glass doors let you look inside your pantry without putting the contents on full display. And different frames can add style to the overall design. Add a designed label to the door to give it a personalized touch. 
"Glass can be a great middle-ground for homeowners who want visibility without leaning into a fully open-concept pantry," said Monson. "For homeowners who want glass but don't want their pantry shelves in constant view, frosted, etched, or fluted glass can be great alternatives."
4. Blended Pantry Door 
Your pantry door doesn't have to stand out from the rest of the kitchen design. Blend it into the rest of your cabinetry for a streamlined look that visitors won't even recognize as a pantry. Using consistent hardware across your kitchen helps solidify a unified look that ties the whole room together. 
What Can I Use Instead of a Pantry Door? 
Some homeowners prefer to remove the door entirely so their items are easily within reach. This concept can be a useful alternative for homeowners as long as the interior has a clean organizational layout. You also don't have to use a traditional pantry built into the walls. Standalone pantries are easily customizable; you can pack them up and take them if you move. 
Whether you want your pantry door to blend in or stand out is up to you. If you can't decide, or don't even know where to start, don't worry. The team at James Barton Design-Build can help you parse out your stylistic preferences and find the best option for your upcoming kitchen remodel.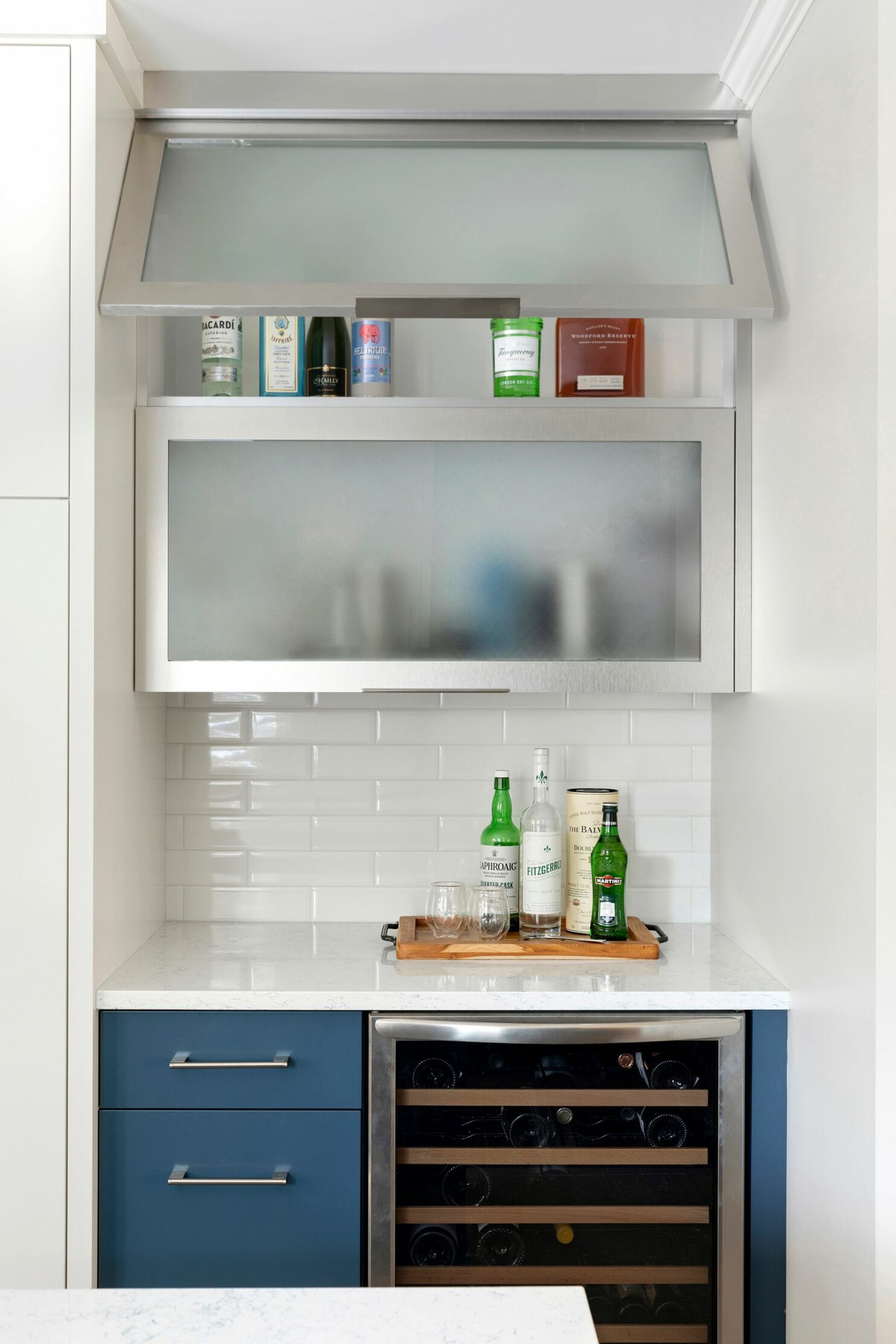 Other Organizational Systems for Your Kitchen
You don't have to rely on your pantry to store your food. Strategically-placed organizational systems around your kitchen put often-used items (i.e., cooking sprays and spices) at your fingertips. A well-designed appliance garage gives your countertop a clean look without sacrificing accessibility to your favorite appliances.  And a separate coffee bar or liquor cabinet can keep specialty items on display and easily within reach. Why not make your kitchen work for you instead of vice versa? 
Time to Create Your Perfect Kitchen 
A kitchen remodel is the perfect time to swap out and update the parts of your kitchen that aren't working for you anymore. From pantry door ideas to new appliances to better lighting, the JBDB team can help design and build a kitchen you love using every single day. 
Main Form
"*" indicates required fields