These Eagan homeowners felt their kitchen was dark and cramped. They came to James Barton Design-Build for a brighter feel and better layout. The result is an open kitchen doesn't just look beautiful; its functionality is also tailored to the family's needs and preferences. 
Bright and Inviting Eagan Kitchen Remodel
Today, these Eagan homeowners enjoy a lighter and more open space with better storage solutions and a layout that makes sense.
Making a Small Space Feel Larger
Sometimes, the inherent footprint of a house means a design team needs to get creative. For this Eagan kitchen remodel, the JBDB team employed a thoughtful appliance layout and reconfiguration. They began by swapping out the peninsula for a central island, including a well-placed drawer microwave. This choice freed up space to create a focal point at the range, where the microwave would have otherwise been installed. 
But the changes didn't stop there. By removing the door at the top of the steps and opening up the wall to the lower level by installing a railing, the space doesn't feel as closed off. This change helps achieve the more open look and feel the homeowners were looking for. 
Using the Vent Hood as a Focal Point
To give the kitchen a nice, solid focal point, JBDB installed a custom vent hood surround. Mounting it to the ceiling provides functionality without sacrificing the design.
Want to know more about this selection process? Here's what to consider when choosing a range hood.

Innovative Storage Solutions 
Clever kitchen storage makes a significant impact to daily cooking and cleaning tasks. The James Barton Design-Build team executed innovative solutions so these Eagan homeowners can make the most of their new space. Alongside an expansive pantry and widened cabinets, a classic glass display case now highlights some of their most treasured items. 
"When it comes to remodeling a kitchen, functionality is just as important as design," said Sydney Monson, one of JBDB's designers. "It needs to be easy to work in. Otherwise, you're not as likely to use it."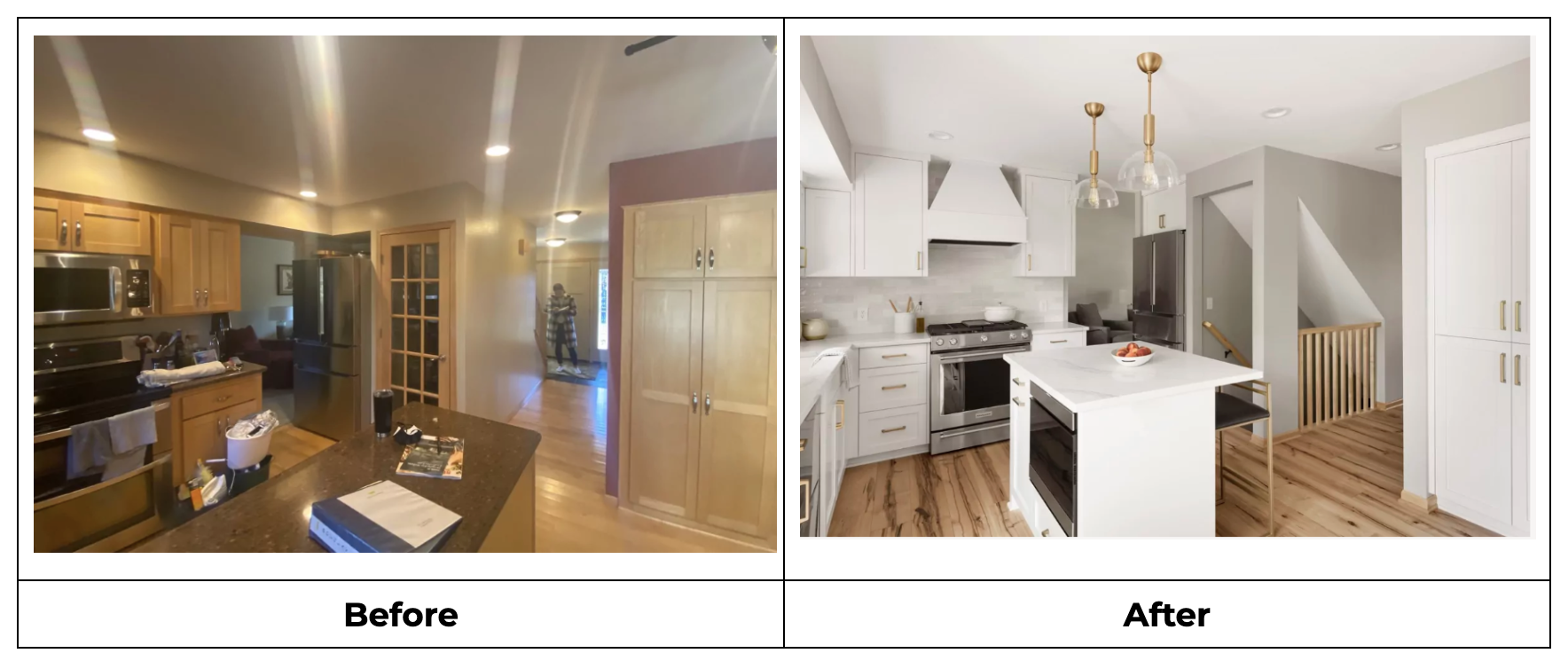 Choosing the Right Accents 
Bringing the room together are a few standout features:

Amerock Cabinet Hardware. The golden detail from the cabinet hardware adds a pop of color reflected and accentuated throughout the rest of the kitchen design. 
Delta Kitchen Faucet. The high-end Delta golden faucet matches the cabinet hardware. This shade appears again in the window trim and island chairs for a cohesive thread spanning the whole kitchen. 
TileBar Tile Backsplash. White subway tile backsplash provides a classic backdrop, accenting the rest of the kitchen remodel design. Its sheen reflects the natural light coming in, helping with the task of brightening up the space. Tile is also easy to keep clean, which is a win when keeping up with daily chores! 
LM Flooring Engineered Hardwood. Because kitchens see so much daily foot traffic, the flooring you choose makes a big difference. Engineered hardwood flooring is up to the task and easy to maintain. Not to mention, going with a lighter shade can help brighten up a room. To Read: Is Hardwood Flooring Right for My Remodel?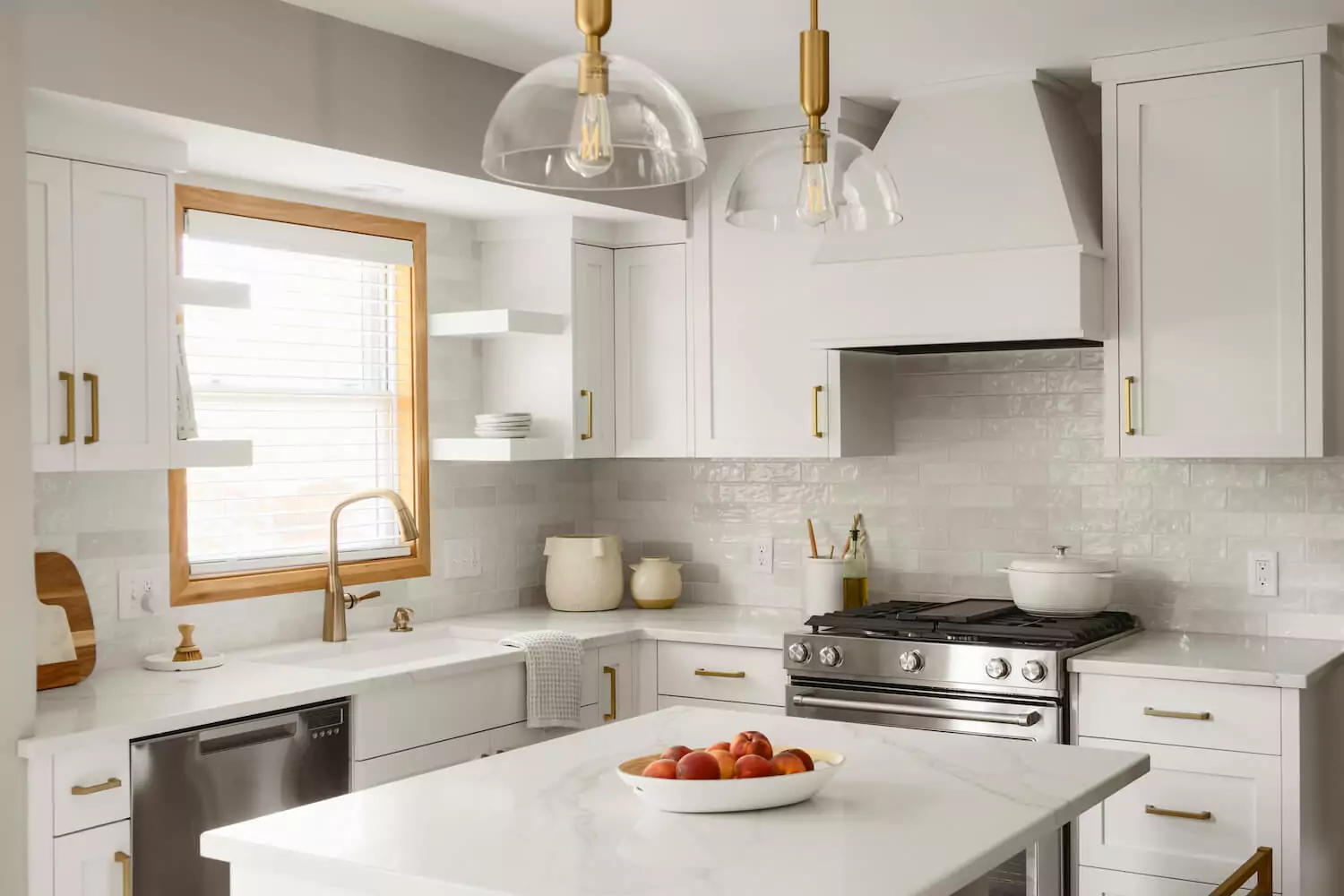 Change Your Own Kitchen 
You don't have to live with your current kitchen setup. If you're dissatisfied with your kitchen's design and layout, the James Barton Design-Build team can assemble smart solutions and personalized designs to bring your dreams to life. 
Schedule an initial consultation to begin the process for yourself. You'll be glad you did! 
"*" indicates required fields