Warmth, history, elegance — there's a lot to love about hardwood floors. But should you install a hardwood floor during your next remodel? The answer is up to you, but before you take the plunge, read these considerations.
The Pros of Hardwood Flooring 
They fit into almost any style. Whether you're hoping to create a contemporary, rustic, traditional, or unique look, hardwood floors have a place.
They're durable and long-lasting. Hardwood floors require minimal maintenance and, if cared for properly, can last a lifetime!
"Hardwoods provide a classic, timeless quality to your home," noted Sydney Monson, one of JBDB's designers. "This type of flooring stands the test of time and can fit into practically any design aesthetic."
It's a worthwhile investment. Because hardwood flooring is sought-after by many homeowners and has such a long lifespan, adding them to your home increases its value. In fact, according to a CNN report, "hardwood floors can…increase home value by 3-5%."
How Long Does Hardwood Flooring Last?
With proper care, hardwood flooring can last 30 years or more. That being said, pets and children often lead to dents and scratches.
"If you're going to be bothered by small dents in your floor, hardwood might not be the best fit," said Kayleigh Queoff, another JBDB designer. "Alternatively, you can use area rugs to protect your floor from the wear and tear of daily life."
The First Major Decision: Solid vs. Engineered Wood 
If you've decided hardwood flooring is for you, it's time to start working through more decisions. Up first, which type of wood do you prefer: solid wood or engineered.
Solid Wood 
This popular option is made from a solid cut of wood around ¾ inches thick, which can be sanded and refinished multiple times. With proper care, this flooring lasts longer than engineered alternatives. While solid wood flooring can be susceptible to scratches and dents, it's easily refinished, allowing you to change the color or sand out imperfections.
Engineered Wood
This flooring is built with layers of hardwood and plywood, in a range of thicknesses and widths to align with your design style. It's also better equipped than solid wood to handle temperature and humidity fluctuations. While engineered wood costs tend to be slightly less than solid options, installation fees are comparable.
LVP: A Non-Wood Alternative
Not to throw too many choices into the mix, but if hardwood flooring isn't seeming right for you, there's another option.
Luxury vinyl plank flooring (LVP) gives you the wood look without added maintenance and is a durable choice, especially for pet owners. It's installed with a clear protective coating, making LVP scratch- and stain-resistant. Easy to clean and water-resistant, it can be an ideal choice for bathrooms and kitchens. "LVP flooring also works well if you want to heat your floors, which can be a must-have during chilly Minnesota winters," said Kayleigh.
Wide vs. Thin Planks
Once you've landed on the type of material, think about how you want it to look. Wide planks lend themselves to a range of aesthetics, while thin planks are typically more traditional. That being said, wide planks tend to cost more because they're made from bigger trunks from older trees. You can always play around with mixing the two sizes together, either from room to room or in the same space.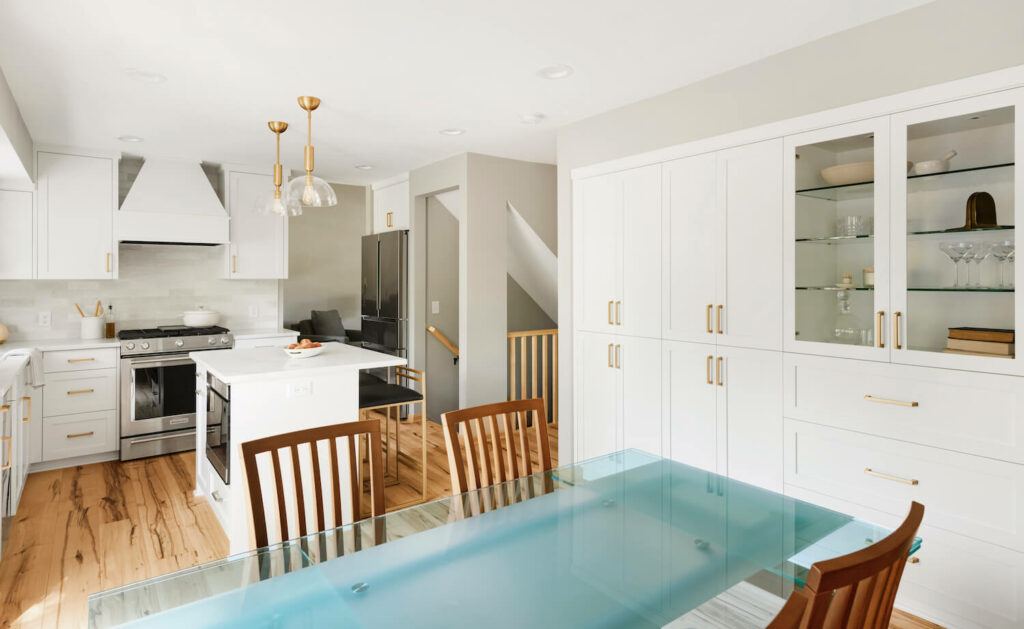 Different Colors of Hardwood Flooring 
Different stains can alter the color of your hardwood flooring to your design. Not sure which color is right for you or how to achieve it? Whether you have a clear vision of what you want or are just starting the decision-making process, the JBDB team can help you think through your goals and household to guide you to a decision you'll love for years to come.
Dark & Elegant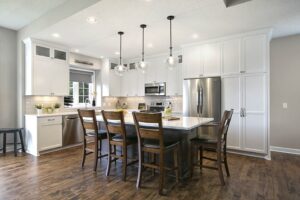 Use darker flooring to achieve a rustic look or pair them with contemporary custom cabinetry for an elegant result, as seen above.
Light & Natural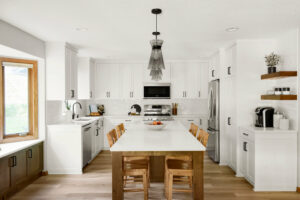 Subtle, neutral tones work even if your style shifts. As accessories, cabinets, or paint colors come and go, your floor pairs with a wide variety of looks, so you aren't stuck in a specific niche.
Red & Warm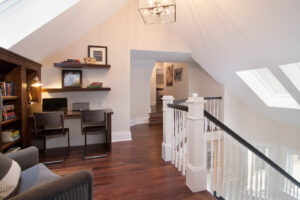 When it comes to wood stain colors, reddish tones easily warm up any room in your home. Pair it with a lighter shade (in the above, you'll see the homeowner opted for white walls) for a striking design.
Gray & Modern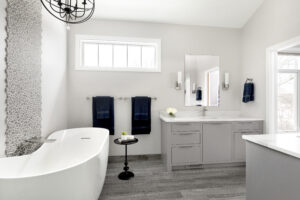 For a modern twist, why not turn to gray? Gray wood stains have grown increasingly popular as a design element over the past few years and offer a neutral that's easily paired with an array of accent colors. (Read this article on gray paints!)
Want something all your own? Varying hardwood flooring colors with different wood stain colors can produce a one-of-a-kind final result. Use a systematic striping approach or a random layout. "We can also customize stain so that it's perfectly suited to your space," Sydney added.
Prioritize Proper Installation
You might be tempted to install hardwood floors yourself, but that's not recommended. Once you've decided on hardwood floors, have them properly installed. If you don't, you could wind up with gaps, warping, and a waste of money.  This is one job best left to the professionals.
Pro-Tip: Before You Install a Hardwood Floor in Minnesota

Wood is responsive to the environment around it. Here in Minnesota, where the air can be drier, you may want to keep an eye on your home's humidity to avoid shrinking, especially if you've decided on solid wood flooring.
Hire Experts Who Handle the Process from Beginning to End
Hardwood flooring reinvigorates the look and feel of your home. But with seemingly endless options, the process can feel overwhelming. When you're investing time and money into a home remodel, you want seasoned experts who can talk you through options and handle the logistics for you. From the ideation phase to the final coat of sealant, let the professionals care for your floors during your next remodeling project.
Learn more about the James Barton Design-Build team. Then, schedule a consultation and transform your home from the ground up.