Oftentimes, when people think about renovating their home, they're thinking about the logistics: creating a better floor plan, bringing finishes up to date, or replacing worn-out items. But it's just as important to remember that a home renovation is also the perfect opportunity to customize your home for your family's needs and daily routine.
"When you move into a home, you often have to make do with the home's existing layout," said JBDB's designer Emily Thull. "But when you remodel a home, you get to make it work for your day to day life, instead of working and planning around what's already there."
Here are some insights and ideas on how – and where – custom pieces can really make an impact on your home design.
In the Kitchen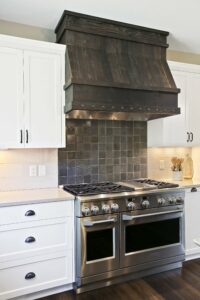 Kitchen renovations provide a huge opportunity to incorporate customized designs. "Custom storage is a common request," said Emily. "We had a homeowner that liked to use a lot of oils in their cooking, so we created custom pull-outs to accommodate the extra height of the bottles."
The stove's vent hood is another great opportunity to showcase a custom piece and create a focal point of the kitchen. "One homeowner wanted to use some reclaimed wood for a vent hood," Emily said. "They wanted it to feel comfortable, not too ornate — so we added some metal rivets around the edge." The result was a custom piece that was not only unique, but reflected the homeowner's personalities.
Don't be afraid to think out of the box or use something with sentimental value when dreaming up custom ideas. "Sometimes we're taking elements from three different ideas and combining them into something unique," said Emily.
"Inspiration can come from anywhere – you may not have pictures of kitchens that you like, but maybe there's a piece of art or a family heirloom that you want elements of reflected in your kitchen design."
In the Bathroom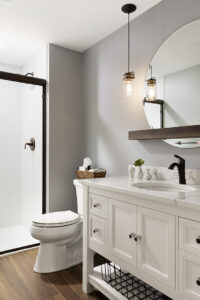 Bathroom renovations give homeowners another chance to incorporate custom designs into their home. "We created a custom mirror and shelf combination in a recent bathroom remodel," said Emily. "It was the perfect way to incorporate a modern touch to a rustic bathroom."
Just like in the kitchen, custom storage in the bathroom can really streamline a person's daily routine. For instance, having a special pull-out drawer for hair dryers and curling irons keeps them close at hand but easily hidden away to reduce clutter on countertops.
Other ideas for custom solutions in a bathroom include a fog-free mirror in the shower, special tilework, or unique hardware. Taking an old buffet or piece of furniture and making it into a vanity is another unique way to incorporate a custom piece that easily adds charm to a bathroom.
Other Areas Throughout Your Home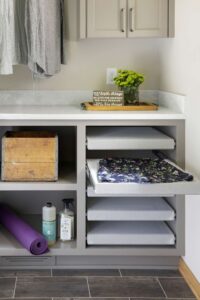 Custom-designed pieces don't just have to be limited to the kitchen or bathroom! Custom built-ins in living rooms or entryways, a command center, or custom fireplace designs are all ways to make your home work better with your day to day life.
"We had a homeowner that wanted a solution to flat-drying her sweaters in the laundry room," said Emily. "To achieve this, we designed pull-out drying drawers that could easily tuck away when they weren't in use."
For even more ideas on creating custom pieces and custom storage solutions that will streamline your home life, contact the home design-build team at JBDB today!