The Parade of Homes 2023 Remodelers Showcase is right around the corner, and it's the perfect time to tour local houses, see unique home remodels, and get inspired for your next project! See our latest transformation for yourself.
When: Friday, March 31st – Sunday, April 2nd from 12 – 6 pm
Where: 550 Summerfield Drive, Chanhassen, MN 55317
Remodelers Showcase Number: 27
We're honored to be part of this prestigious showcase and hope to see you there. Click here to virtually plan your tour!
What is the Parade of Homes MN Remodelers Showcase?
The Parade of Homes Remodelers Showcase allows you to tour and view the designs of the Twin Cities' most stunning home remodels of the year. James Barton Design-Build is thrilled to once again have one of our homes featured during this exciting weekend. Visitors can walk around the houses to gather inspiration and ideas for their upcoming renovation dreams.
---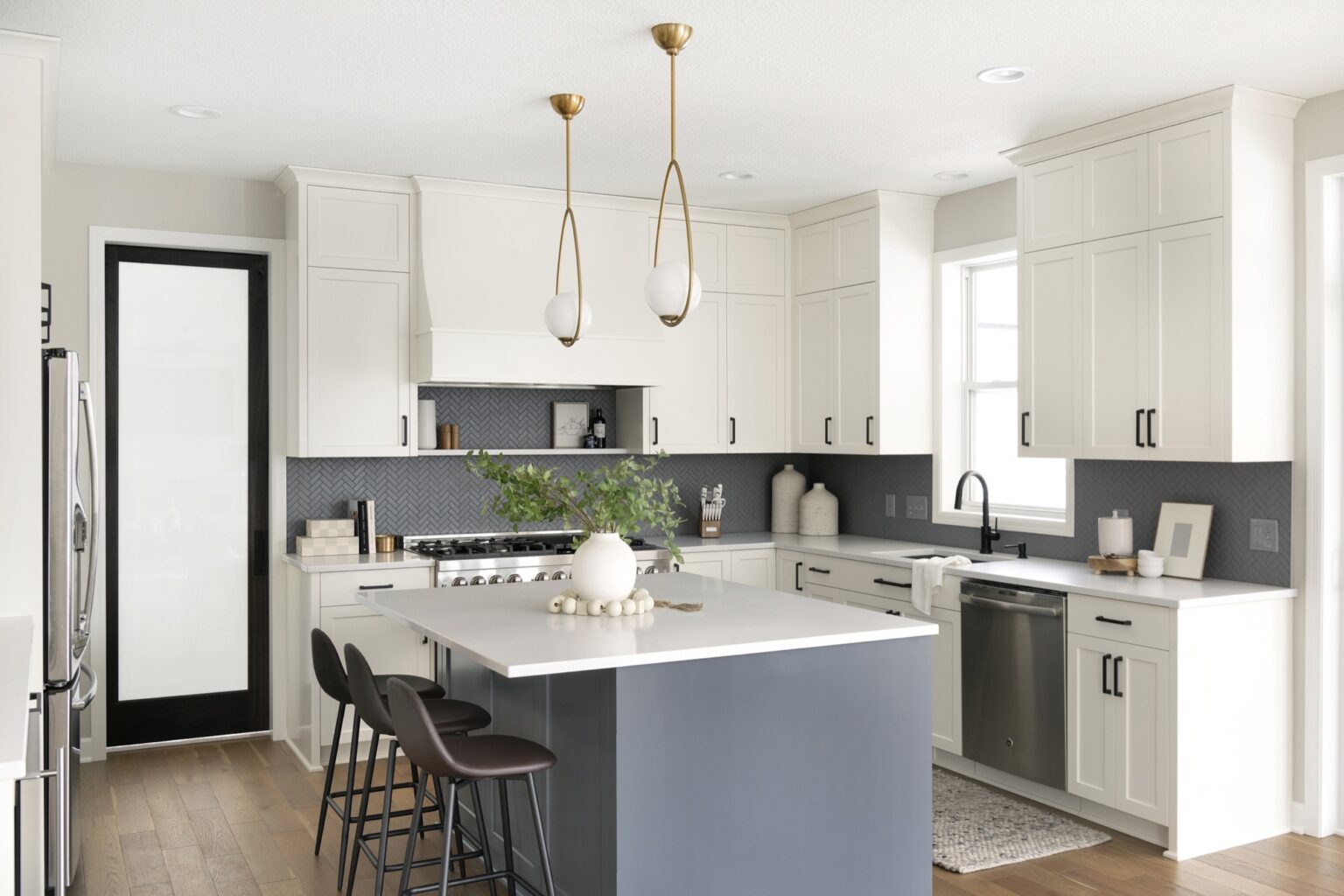 JBDB's Spring Showcase: A Chanhassen Main-Level Update
Bryan and Jennifer Wilson have loved their Chanhassen house since they purchased it eight years ago. "It had the whole package: the size and functionality we wanted, an open floor plan, even a neighborhood pool and playground nearby for our little ones," said the homeowners.
But the interior left something to be desired.
How Are You Doing, 1999?
Even though they'd found their dream home, the homeowners couldn't ignore that part of it was stuck in the past.
"There was golden wood everything — on the cabinets, the doors, even the blinds were made of faux wood," said Bryan. "It was all high-quality but super dated. We knew it was time to move into the 21st century."
The other big issue was space. The mudroom entryway, with a wall separating the mudroom and laundry room, made the whole area feel cramped and unusable. "It was like sardines on top of each other," said Jennifer. "It felt like there was space here that we just couldn't use."
As a family of four, space was at a premium. The couple wanted a home office but didn't have room for one in the current configuration. Besides the crowded entryway, an unused dining room took up valuable real estate on the main level. The idea was to retain the open-concept layout while making the whole floor more functional, comfortable, and cohesive.
A Fit That's Just Right
Once they decided it was time for a change, these Chanhassen homeowners started researching local remodeling companies.
"We met with three companies to gather quotes, do walk-throughs, and get a sense of their personality," said Jennifer. "One was cold; another left us with too many questions."
Luckily, a neighbor had worked with James Barton Design-Build twice before, which inspired them to make an appointment.
"When we met with John and Sydney [at JBDB], we were immediately impressed and comfortable with them. My mind was blown when they showed us what they could do with our entryway," said Bryan. "We're not designers, so we appreciate that they weren't a general contractor. They guided us from start to finish, turning ideas into functionality in addition to all of the construction and coordinating."
Hiring a design-build company means you don't need to be aesthetically oriented or understand home construction. You get to express your needs, hopes, suggestions—even design changes, then leave the heavy lifting to the experts.
"The James Barton Design-Build team was flexible to work with! They were responsive to feedback and vision; our ideas were always heard and respected," said Jennifer. "Overall, there was a nice give and take."
To address the homeowner's wish to reinvigorate and update this home's 1990s style, the James Barton Design-Build team completed a full main-level update, including:
A new work-from-home office
Complete kitchen remodel
Family room modifications, including a new linear Heat & Glo electric fireplace
Mudroom and laundry room reconfiguration and redesign
Main level half bath update
Staircase refresh
"We absolutely loved putting together this remodel for the Wilsons," said Sydney Monson, one of JBDB's designers. "Not only did we enjoy getting to know them, but seeing how much they loved the transformation — it reminds us why we do what we do."

Letting Go of the Gold
The main priorities were swapping out the gold wood tones and making the open floor plan more functional for their family. Engineered hardwood floors now traverse the main level, except for the living room and office, where carpet provides a cozier feel.
A few favorite features:
Quartz countertops across the kitchen, half bathroom, and mudroom/laundry room
Herringbone tile kitchen backsplash with a matte suede gray finish
Enameled and stained alder kitchen cabinets, with a matching stained alder floating shelf in the family room
Blanco kitchen sink with a matte black Delta faucet and soap dispenser
Custom countertop detail in the main level half bath, with Honey-Bronze Top Knobs vanity cabinet hardware
Aged brass-finish Rejuvenation laundry/mudroom coat hooks
Elkay laundry room/mudroom sink with a matte black Delta faucet
Custom bi pass doors with flat black Emtek hardware provide privacy for work calls without sacrificing the open layout they love. And illuminating the main level are fixtures from Creative Lighting and Visual Comfort.
A New Home in the Same Chanhassen Neighborhood
Today, the new design and layout support the whole family's needs, whether it be taking a work call, making a home-cooked meal, or relaxing together. And the once-crowded mudroom entryway is a game-changer for their home. Finally, there's room to sit, store bags, and do laundry without being on top of one another.

"I hadn't been able to see the vision," concluded Bryan. "We're so glad that JBDB could."
Transform Your Own Home
Schedule a consultation with the JBDB team. See what your home could become.
---
Previous Parade of Homes Projects
JBDB has been part of the Parade of Homes Remodelers Showcase for the past few years. Check out our other Minnesota remodels below: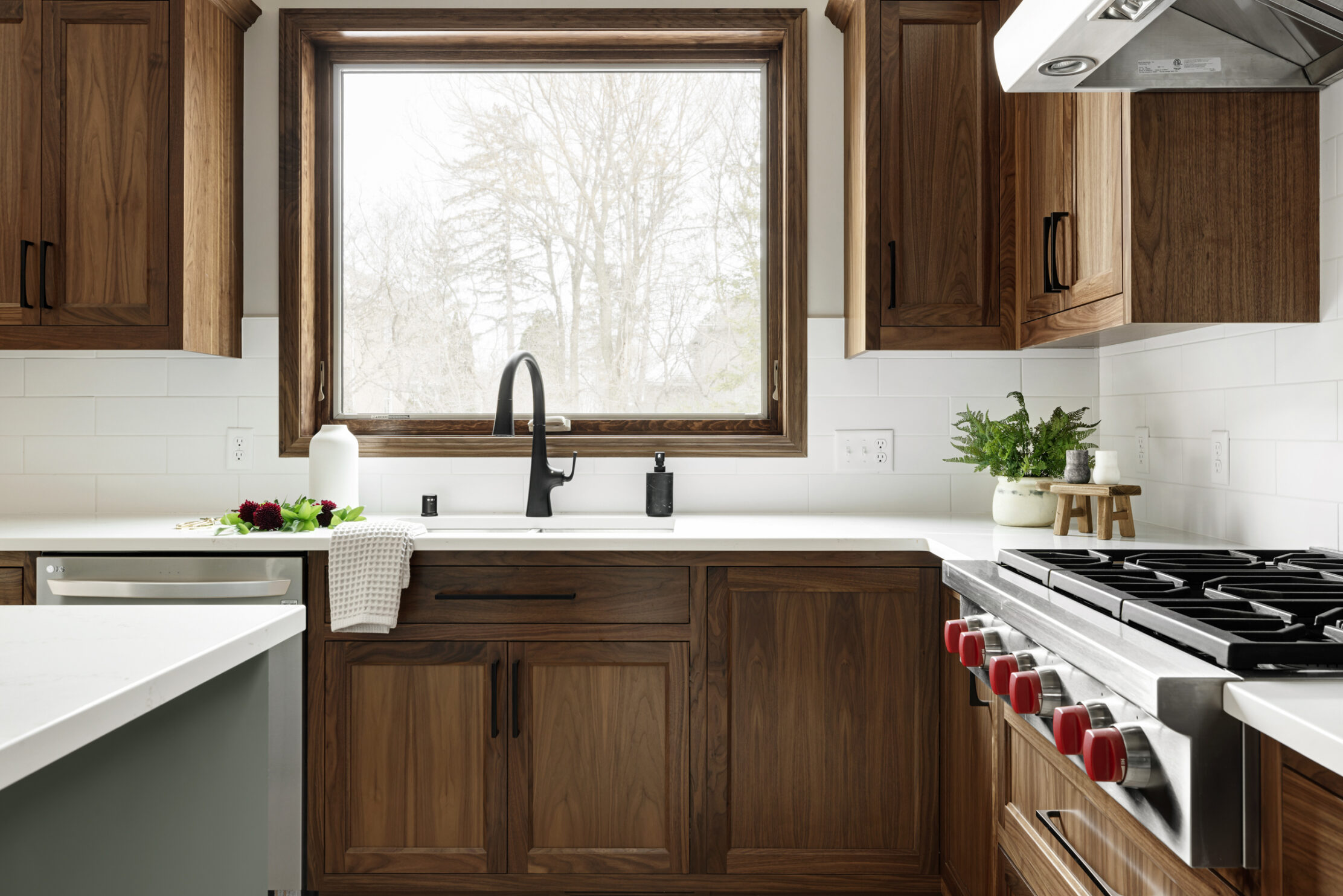 JBDB's Spring 2022 Parade of Homes Remodelers MN Showcase
"We found JBDB fair, honest, practical, reliable, and responsive" – Homeowners
After spending 30 years in their Plymouth home and celebrating a recent retirement, our clients were ready for a massive, two-phase remodel. After completing the first phase, it was time to dive into Phase Two, focusing on transforming their cramped, outdated kitchen.
"Our goal was to bring the design of the house forward for a more contemporary look while making the kitchen brighter and user-friendly," noted the homeowner.
So, the JBDB team got to work.
From Cramped to Contemporary
Once JBDB's designers worked with the homeowners on the new kitchen design, a comprehensive calendar was created and communicated to everyone involved in the ten-week process. Keeping everyone on the same page about timelines and costs helps eliminate potential surprises.
"Using Chief Architect software, we could see a three-dimensional sketch of the kitchen design and tweak it until we were completely satisfied. Our designer's patience was amazing!" said the Plymouth homeowner. "Having their design showroom made selections easy and efficient."
One of the most significant changes was their kitchen's look, feel, and functionality. A large picture window and recessed LED fixtures brightened the room.
"We took a dark and dated kitchen and installed white countertops and backsplash to give it a brighter look. Then we added warmth with the walnut-stained cabinets and rich olive-green enameled island and base cabinets at the bar area," noted Monson.
The kitchen has since become a favorite spot in the house.
The Relationship Continues
Relationship building helps deliver a successful, stress-free process and result. Plus, it means homeowners have a trusted point of contact to call when new renovation needs come to mind. Know someone who'd be a great candidate for our remodeling services? Learn more about how you can benefit from our referral program!
---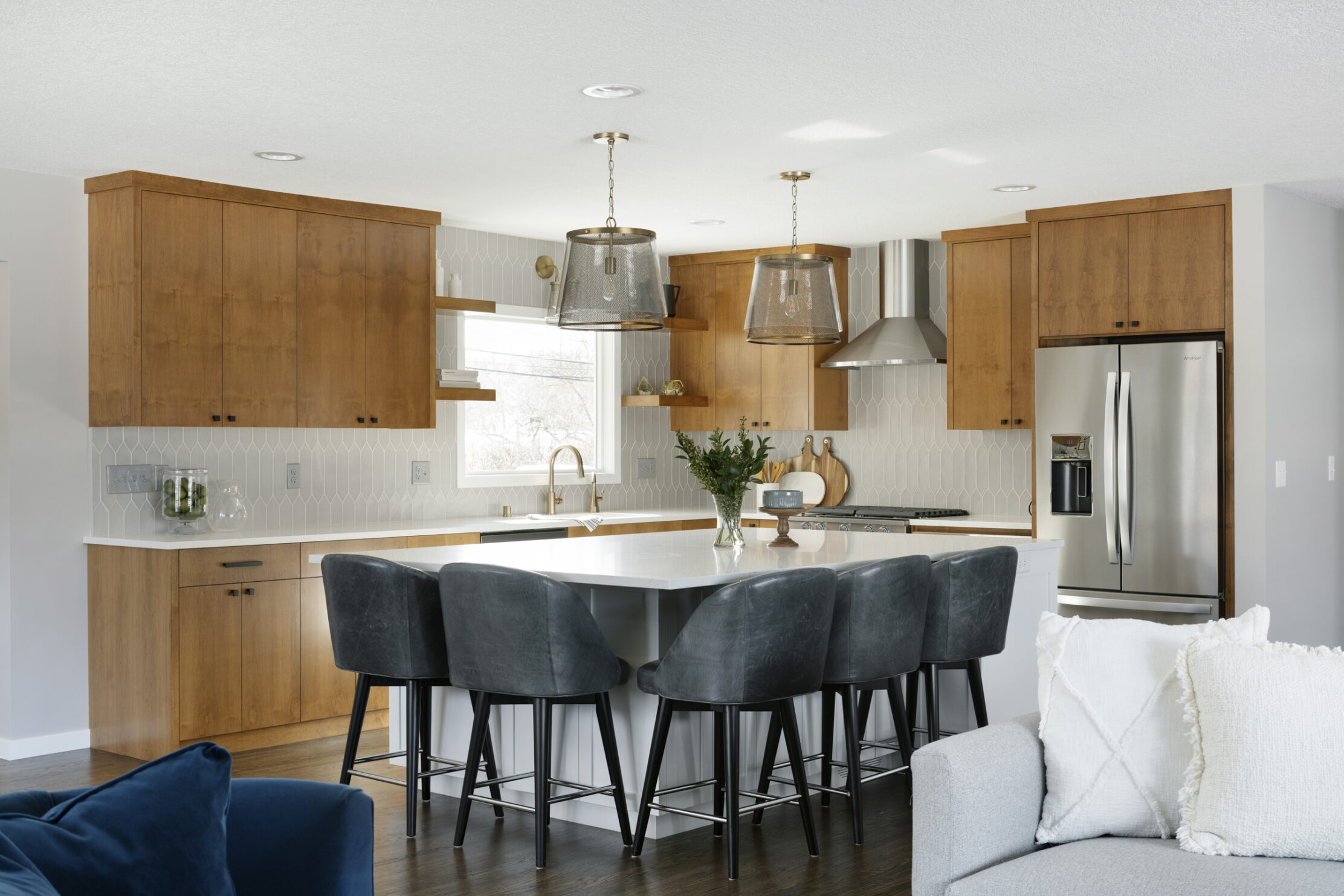 JBDB's Spring 2021 Parade of Homes Remodelers MN Showcase 
Though they loved the neighborhood, location, and school district, these Edina homeowners were ready to give their home an entirely new look. "The whole house was straight out of 1990, and we bought it knowing that the bones of the house were really solid, but there had been no real updates for at least twenty years," said the homeowner.
After some of the home's decades-old appliances started to go, the homeowners decided the time was right for an update. JBDB provided them with a comprehensive design-build renovation plan to give them a new look their house desperately needed.
Big Changes for the Whole Family (Including the Dogs)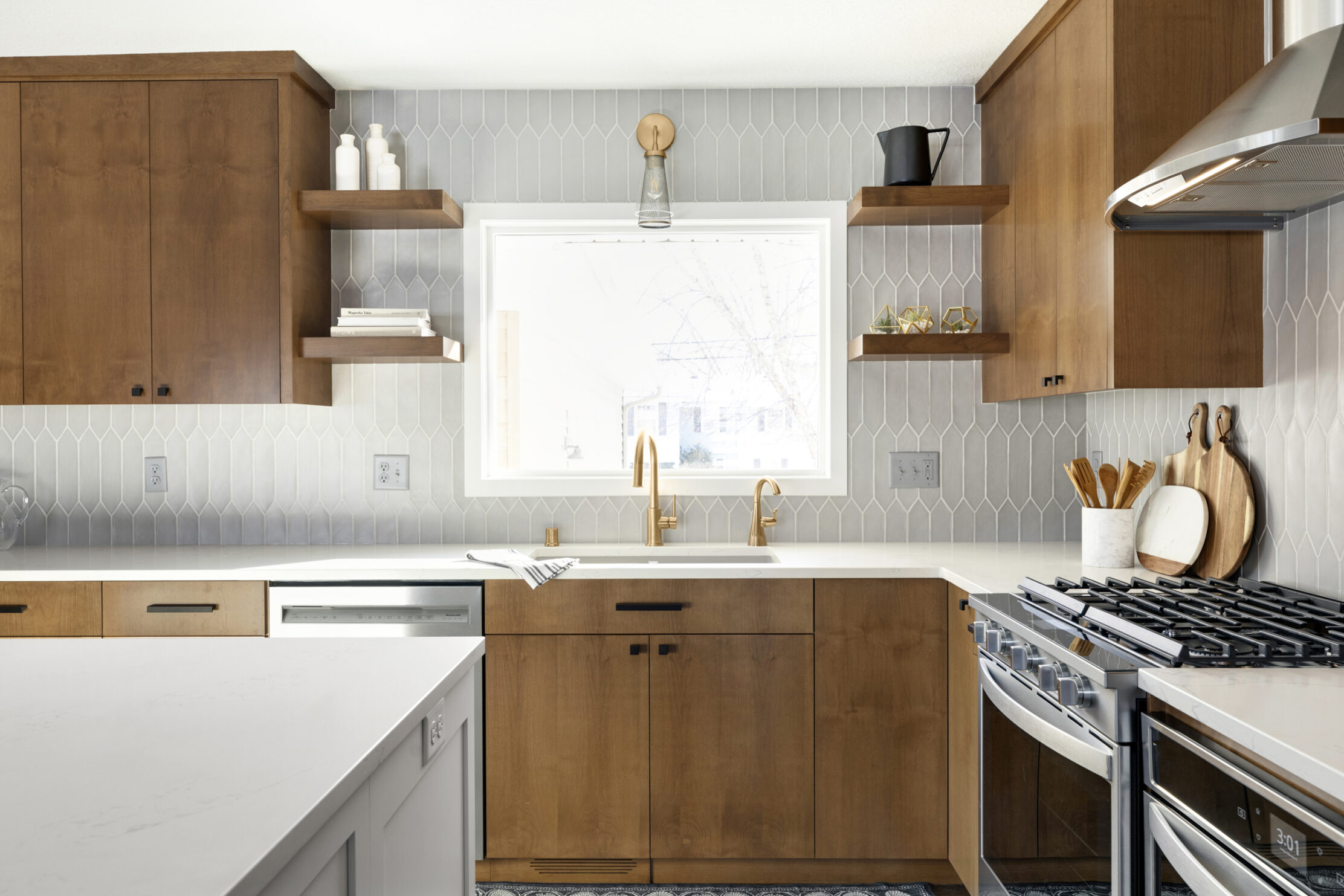 For this project, the James Barton Design-Build team completed a whole-home remodel, including: 
 Main-level stairs relocation.

Kitchen and dining room renovation, including a butler's pantry. 

The creation of an open-concept floor plan. 

Owners' bathroom update. 

Completely renovated the lower level.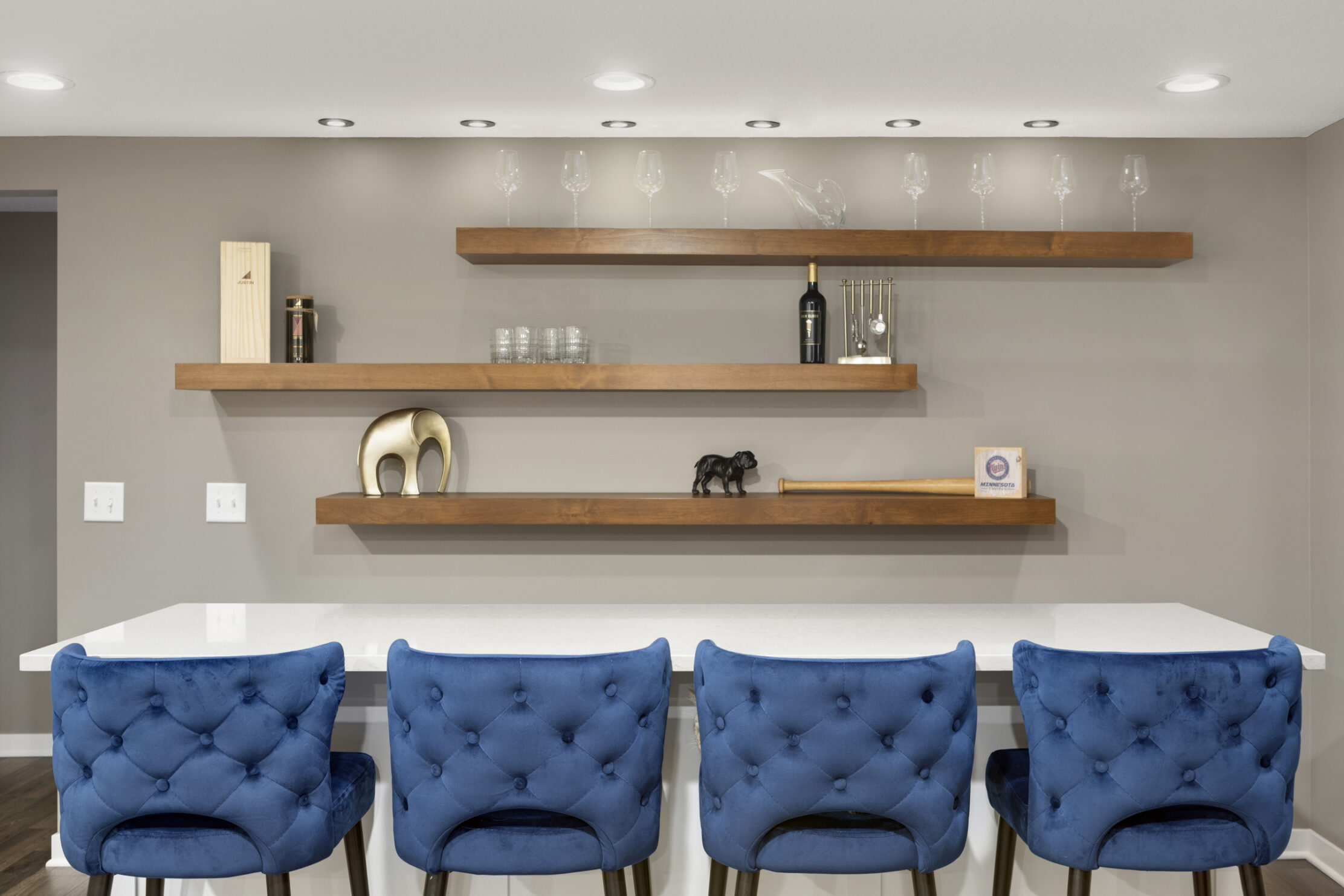 Today, the open-concept main level means the family spends more time together and gives the home a fresh look. 
The butler's pantry provides extra storage just off the kitchen and boasts a convenient dog wash station. The lower level features a new bar area, a large theater room, and a gaming area for the kids. The JBDB team worked with the family to develop fun design elements and a space for everyone to enjoy, including the dogs! "The JBDB team was very responsive, and there weren't any surprises that weren't explained right away," said the homeowners. "What they said they would and could do, they delivered."
---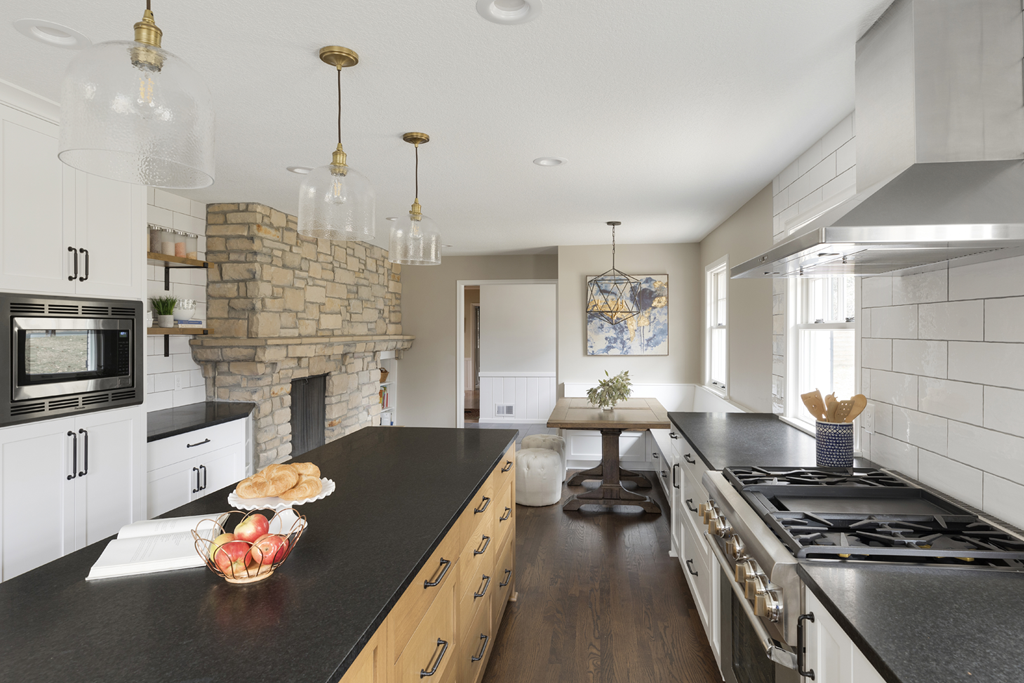 JBDB's Spring 2019 Parade of Homes Remodelers Showcase 
Kitchen renovations for the Iyer family achieved much-needed updates during this Edina remodel. The Iyers turned to the Minneapolis design-build team at JBDB to help remodel their kitchen. "We had a pretty good idea of what we wanted, but our designer brought in all the style that brought the big elements together – she understood the final feeling of a warm center of the home we were looking for," said Leslie.
Bringing the Kitchen Up to Date
The Iyer family moved into their Edina home in 2005, and a kitchen update was on their list from the beginning. The kitchen had one minor remodel done in the 1990s but otherwise was relatively untouched since its 1956 construction. "The cabinets were very old and were beyond saving," said Leslie Iyer. "We had extremely limited lighting, poor insulation, and an awkward, tight entry from our breezeway."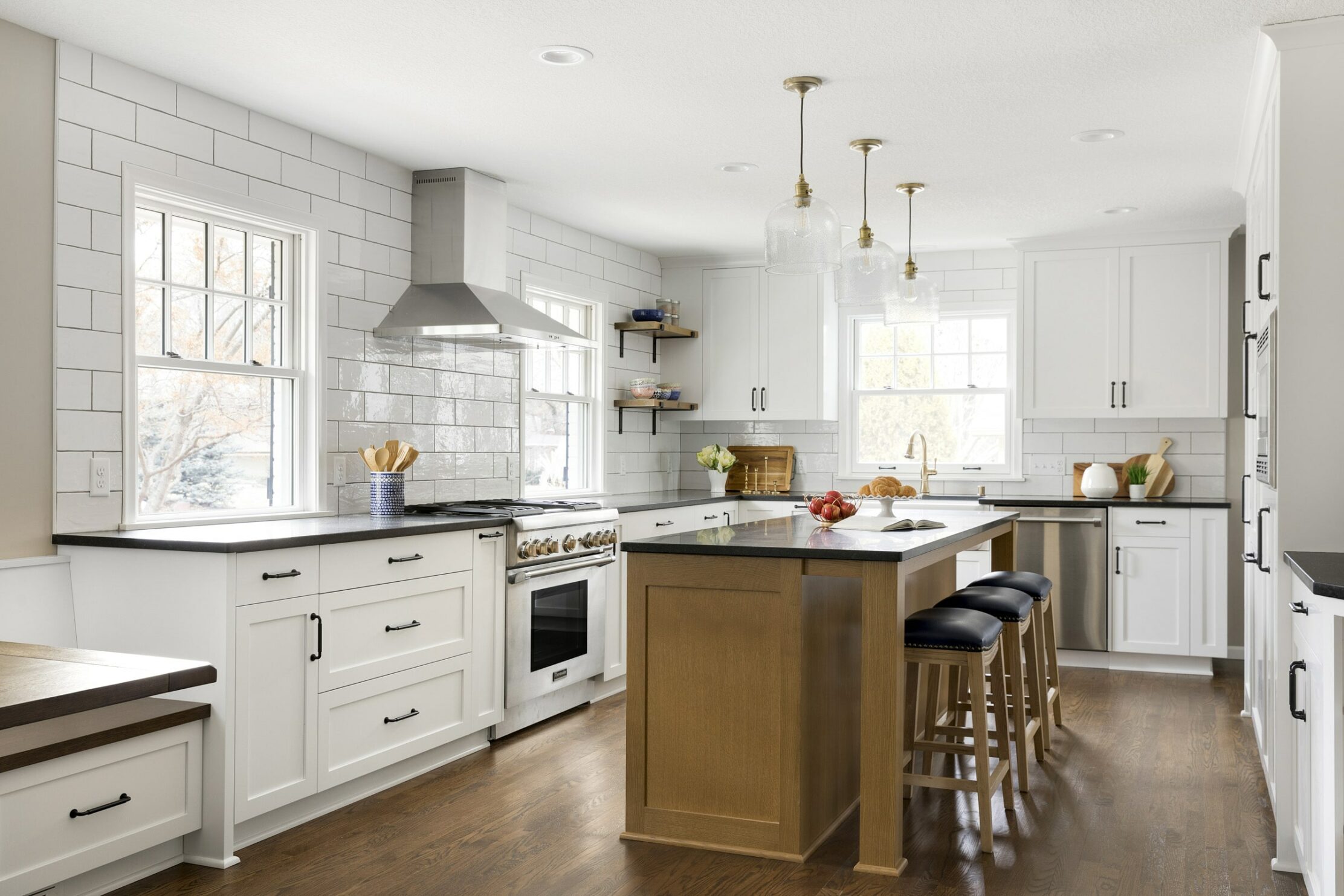 To achieve a warm, welcoming, and updated kitchen, the JBDB team reconfigured the floor plan to expand the kitchen and make better use of the dining area. New custom cabinets were enameled white around the perimeter and were stained a warm-toned brown on the rift sawn oak island; honed black granite countertops helped pull the look together. Black accents were pulled through the open shelf brackets and the matte black cabinet pulls.
A white subway tile backsplash was highlighted by contrasting gray grout, and brass champagne light fixtures and kitchen faucet added dimension and warmth to the updated kitchen design.
 "Often people think that to make a statement, you need to use a bright pop of color or a pattern," said JBDB's designer. "However, using a mix of different textures and finishes can achieve a high level of visual interest while still sticking to a more neutral color palette."
JBDB sanded the original hardwood floors followed by a coffee-colored stain. The existing stone fireplace was left untouched, seamlessly integrating kitchen updates into the existing beauty. 
Finding Functional Improvements
The Iyer family wanted their kitchen updates to work well with their family, so a landing zone next to the breezeway entrance was created to house mail, charge phones, and keep clutter at bay.
A coffee area, with open shelving above, works for the day-to-day functions of the family – but it also can easily transition into the perfect bar area for when the family is entertaining. Custom pull-outs in the cabinetry hold compost by the sink area, and a pull-out by the stove is ideal for their favorite cooking oils.
"JBDB provided superior craftsmanship in all areas of home building: cabinetry, flooring, painting, electrical, plumbing, tiling; each was given serious care and planned together for a seamless final product," Leslie said. "Our family is enjoying our new space every day, and it's been wonderful to share it with our friends."
Check out our before and after photos gallery for more home design inspiration.
---

JBDB's Fall 2019 Parade of Homes Remodelers MN Showcase
"When thinking about JBDB, the word that comes to mind is seamless. The process was seamless from beginning to end, and they are fantastic people to work with."
Transforming the Master Suite

The Alexanders had initially planned on simply expanding their two-car garage. But after meeting with JBDB they quickly realized that this renovation allowed them to simultaneously expand their primary bedroom, which sits above the garage. By the end of the project, the family's small idea had turned their primary bedroom from a cramped space that was difficult to even move around in into a spacious and luxurious retreat. Their remodeled bedroom features:
new fireplace
seating area
built-in shelving
new television
spacious master closet
a walk-out balcony with plenty of room to sit and relax with a morning cup of coffee or a glass of wine at night.
Creating a Place to Gather as a Family
Considering the phenomenal result of their first home remodeling experience, it was no surprise that when the Alexanders faced a problem with their kitchen design, they contacted JBDB again. Seeking to update the kitchen, living room, and dining room, the JBDB team returned to work with the Alexanders to explore design options.
The JBDB team created an open and peaceful aesthetic that transitions beautifully from the kitchen, to the dining area, and even into the upstairs living room. Updating counters and cupboards brought a more modern appearance to the kitchen, relocating windows allowed for more natural light in the living room, and incorporating Susan Alexander's idea for a stylish spiral handrail into the staircase added a unique and personalized touch. The result left the Alexanders with a new and improved welcoming space to entertain guests and spend time with family.
"We spent time together as a family before, but with the new layout and the cohesiveness of the house, it naturally brings the family together even more," Susan Alexander explained. "When thinking about JBDB, the word that comes to mind is seamless. The process was seamless from beginning to end, and they are fantastic people to work with."
---

JBDB's Fall 2018 Parade of Homes Remodelers Showcase
"Each and every person in our home was kind, professional, and did outstanding work," noted the homeowner. "Our space works well for our family and has become a peaceful and relaxing retreat."
This Farmington, Minnesota, home remodeling project was a great way to update a well-loved family home for recent empty nesters.
The homeowners worked with JBDB to create a plan to transform their house into a more functional, beautiful space. After widening the opening between the formal dining room and the kitchen, JBDB's designer l worked with the homeowners on a new kitchen design to create a calm, coastal-inspired kitchen. A colorful glass backsplash and beautiful Cambria countertops helped achieve a layered, textured feel to the kitchen.
"Friends have commented that it is beautiful, and yet at the same time not at all formal," said the homeowner, "A place where you can kick off your shoes and feel at home."

A Brand New Powder Room
JBDB remodeled the entire main level of this house by adding a home office, updating the entryway, and reconfiguring the mudroom and laundry area. A powder room renovation continues the coastal inspiration, featuring a shiplap wall and wooden accents.
"Each and every person in our home was kind, professional, and did outstanding work," noted the homeowner. "Our space works well for our family and has become a peaceful and relaxing retreat."