If your bathroom is uncomfortable or cramped, it can affect your entire day.  And with the holidays coming up, chances are your bathrooms might see more traffic from visiting friends and family. Giving this room some overdue TLC can make a big difference.
If you haven't seriously considered remodeling your bathroom, it may be because you don't know what it entails. Let's break down what goes into a bathroom remodel, so you can start to see if this is possible.
Breaking Down a Bathroom Remodel
First Off, What's the Size of Your Project?
Are you looking to transform a sizable bathroom or a small powder room? The bathroom's square footage is a good starting point to help estimate the project's scope.
Room configuration. Do you want to stick with the current floor plan or completely reimagine the room's layout? How about adding or moving more extensive features, such as your shower or toilet?
Fixtures. From spa-like showers to intricate floor tiles, larger aspects of your bathroom drastically affect the final transformation.
Countertop materials. Marble, granite, or quartz countertop can enhance your bathroom's overall feel and appearance, plus they're durable enough to withstand daily use.
Personalized enhancements. In-floor heat and built-in towel warmers can balance out those cold Minnesota winters. Our JBDB designers can help you narrow in on the best choices for your lifestyle!
To Read: How to Choose Bathroom Vanity Lighting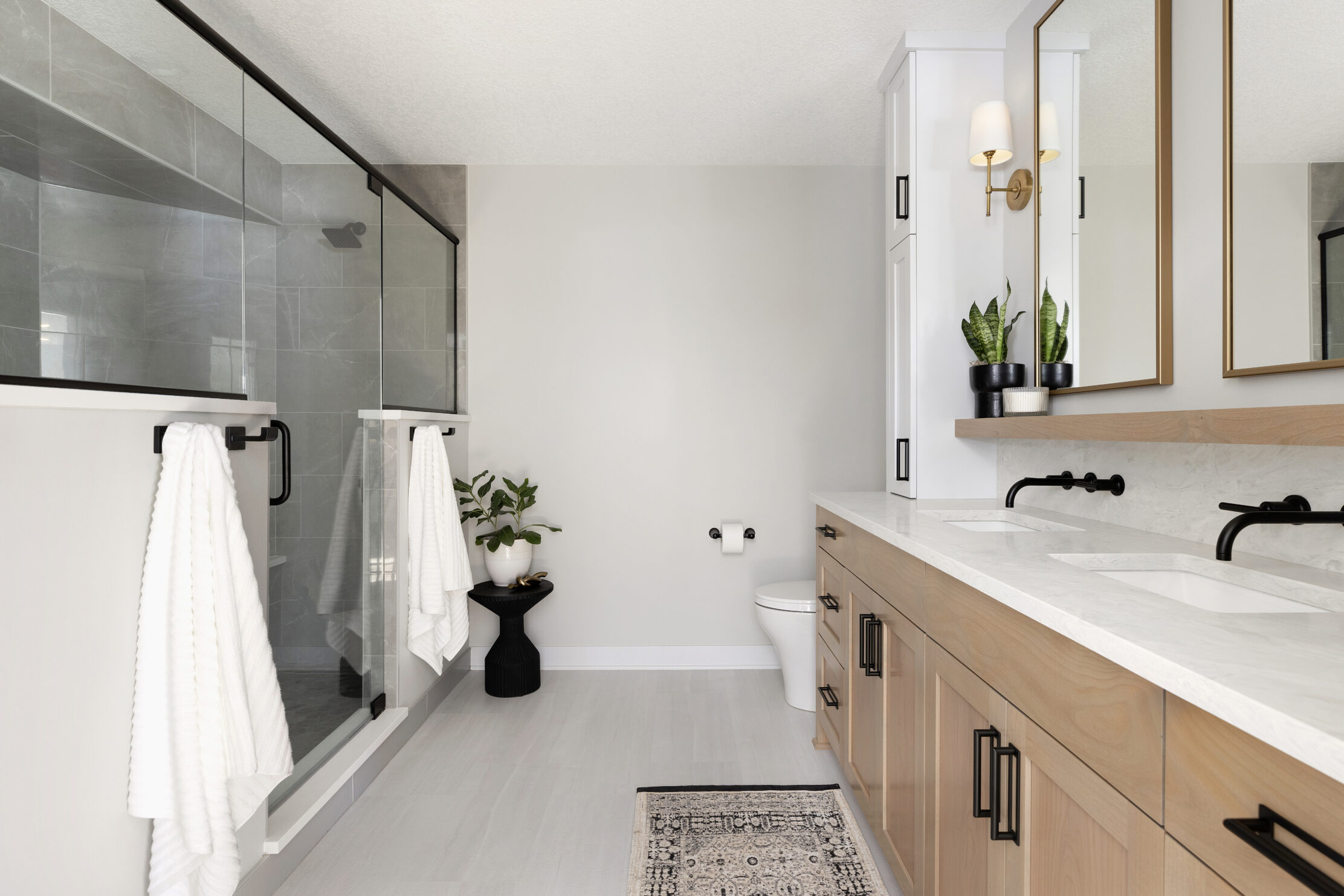 Now, How Do We Plan Your Bathroom Remodel?
Every bathroom remodel is unique to the homeowners behind it. Maybe you have a crystal clear vision of your ideal room. Maybe you're not at all sure what you want; you just know you need a change. Before we begin your remodeling process, let's find out what configurations, additions, and materials would make your life easier and more comfortable.
At James Barton Design-Build, we'll talk through your ideas and vision, always making sure you know what to expect at every stage of the process. We can even go through different options to create a plan that aligns with your needs and dreams.
To Read: Your Remodeling Design Questions Answered 
Bathroom Remodels: Minneapolis and Surrounding Suburbs
Updating your primary, guest, or half bathroom can transform the feeling of your day. And bringing a professional team of designers and builders into the process means you have the ears and minds of professionals who help you make the best decisions for your home. Our team will help create a functional design that you'll love waking up to.
Take another look at our extensive gallery. See a few images that inspire you? Great! Then, reach out to begin collaborating with the James Barton Design-Build team.